Fluids & Greases > Mechanical Vacuum Pump Oil > Inert PFPE Fluids
Solvay Solexis Fomblin Inert PFPE Fluid
Fomblin® Inert PFPE fluids are chemically inert compounds of perfluoropolyether (PFPE) chains. Among their many features, Fomblin® Inert PFPE fluids are non-flammable, thermally stable, radioactively stable, high dielectric properties, and perform in both high and low temperatures. The presence of fluorine in Fomblin® Inert PFPE fluids provides thermal, chemical, and oxidative stability. The presence of oxygen in Fomblin® Inert PFPE fluids provides imparted flexibility to the polymer chain, excellent flow behavior at low temperatures, and a high viscosity index for linear PFPE's. Due to the chemical inertness of Fomblin® Inert PFPE fluids allows compatibility with plastic, metal, and elastomers, and along with a low miscibility with solvents and water.
Features
Doesn't react with most corrosive vapors or act as a fuel when pumping oxygen or oxidizing agents
Withstands high temperatures and oxygen conditions (photo-resist stripping), processes forming Lewis acids (aluminum etching), products from sulfur hexafluoride etching, most acids, bases, and oxidizing agents
Applications include extreme operating conditions, pumping oxygen or other oxidants, photo-resist stripping, LPCVD, plasma etching, and reactive ion etching
Choose Fomblin® by viscosity-use the fluid closest to the pump manufacturer's recommendation for normal fluids
Recommended for direct and belt-driven rotary vane pumps used in extreme operating conditions found in semiconductor processing
Thermally highly stable. Thermal decomposition will only occur at temperatures over 290°C (554°F)
Extensively wide temperature range: -100 °C – 290 °C
Weight loss as low as 0.3% at 204 °C
Specifications Table
Grade
Fomblin 06/6
Fomblin 14/6
Fomblin 16/6
Fomblin 25/6
Vapor Pressure (Torr)
@20°C: 3 x 10-6
@20°C: 2 x 10-7
@20°C: 2 x 10-6
@20°C: 4.2 x 10-8
Pour Point
-50°C
-45°C
-45°C
-35°C
Flash Point
None
None
None
None
Fire Point
None
None
None
None
Specific Gravity
1.88 (g/cc)
1.89 (g/cc)
1.89 (g/cc)
1.9 (g/cc)
Color
Clear
Clear
Clear
Clear
Hazardous Decomposition
HF/COF2
HF/COF2
HF/COF2
HF/COF2
Incompatibility
Flame
Flame
Flame
Flame
Hazardous Ingredients
None
None
None
None
Kinematic Viscosity (cSt)
@20°C, 61
@100°C (212°F), 4
@20°C, 143
@100°C (212°F), 7
@20°C, 168
@100°C (212°F), 8
@20°C, 270
@100°C (212°F), 11
It is strongly recommend using all fluids and greases at the time of receipt, however when storage is necessary, rotate older stock into use first and observe the recommended parameters listed below.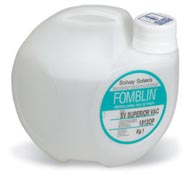 Fomblin
The shelf life Fomblin Y-LVAC, Y-HVAC and LC products is a minimum guarantee of 5 years. As far as the chemical stability is concerned it is over 20 years based on our experience. Within this time frame the Fomblin/Galden products, if stored under normal conditions in the original sealed containers, will maintain their chemical-physical properties unchanged.
Fomblin and Galden samples are retained for 5 years to check and guarantee the conformity to the specifications over this time frame.
Shelf Life of Fomblin Grease is a minimum of 5 years; in this case although there won't be problems in terms of chemical stability there can be oil separation over time, which is normal.
Fomblin Perfluorosolv fluids have a guaranteed shelf life of a minimum of 5 years from date of shipment if stored in the original sealed container at ambient temperatures.
---
Ordering Table
All dimensions listed below, unless otherwise stated, are in inches.
Description
Size
PartNo
Price
Add To Cart