Services & Forms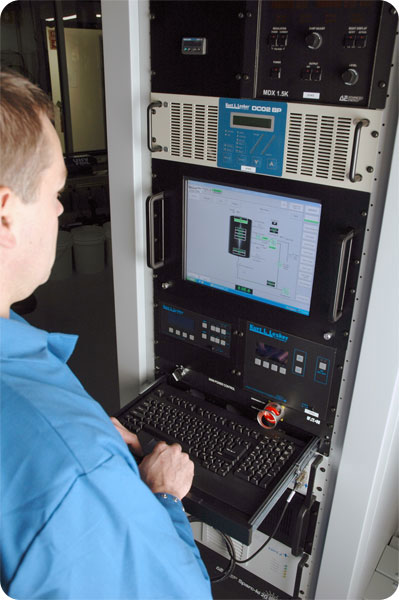 The Process Equipment Division (PED) Global Service Department consists of dedicated, experienced personnel that strive to provide world class customer service. KJLC's goals are to maximize your system's availability (uptime) and simplify your financial planning through fixed, reasonable pricing for extended warranties, warranty upgrades, continual maintenance agreements, service contracts, and standard repair fees. This is all in addition to our standard service and support.
KJLC also offers standard and custom training sessions to our customers. These offerings range from vacuum science basics to specialized deposition techniques and system software recipe writing for novice to experienced tool users. Our offices in the U.S., the U.K., and China contain modern vacuum equipment that can be used for hands-on training. This can be conducted at one of our office locations, on your site, or remotely, in some cases. Contact the applicable Process Equipment Division (PED) Customer Service Department for more details or a formal quote for your training needs. Standard information and pricing can be estimated in our Standard Offerings and Continual Maintenance brochures.
Through our continual global efforts to improve our products, KJLC offers upgrade packages for your existing equipment to optimize performance and improve through put. These packages are tailored for your specific tool configuration and can be quoted upon request. If a Continual Maintenance Agreement, Extended Warranty, or Enhanced Warranty is purchased, these upgrades may be provided at a discounted rate.
Select components may also have an exchange or loaner program to keep your deposition system up and running while your original equipment is being serviced. One of our Service Coordinators can assist with components that may be available and also with completing the Loaner Agreement Form.
Our Vacuum Services group conducts pump repair services for a wide variety of pump manufactures. More information can be viewed under our Vacuum Mart Division™.
When returning any product to KJLC, a RA Number must be issued by KJLC and a Return Authorization Request Form must be attached to the outside of the package.
In order to complete some services as efficiently as possible and to ensure the safety of our employees, certain forms and procedures are required for some processes. Most forms are available in Adobe PDF format for your convenience.
Assembly & Test
The Kurt J. Lesker Company offers a combined clean assembly area of over 5,000 ft2 to facilitate the proper environment for assembling, testing, and servicing PED vacuum systems, deposition tools, sub-assemblies, and components. Our environmentally controlled, positive pressure rooms help to prevent product contamination which can be detrimental to vacuum performance. These limited access areas, combined with lean manufacturing processes and highly skilled personnel, allow us to produce quality products and offer a variety of vacuum science related services.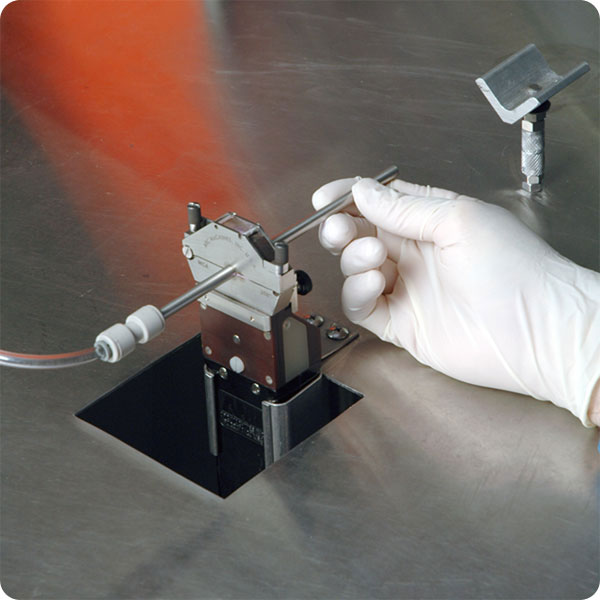 Components, sub-assemblies and systems are assembled and tested to Kurt J. Lesker Company standard ISO procedures and customer specifications. Protective gear is worn in our clean assembly areas to prevent contamination.
Helium leak detectors and residual gas analyzers (RGAs) are used to ensure proper leak rates and vacuum quality. Vacuum baking capability up to 250°C can also be utilized. In-house analysis equipment allows fast, accurate results on thickness, uniformity, and electrical film properties. KJLC's analysis equipment includes: Alpha Step 200 profilometers (film thickness measurement), a 4-point probe (film resistivity measurement), and an XLS-100 ellipsometer (both film thickness and optical constants measurements).
In order to ensure quick turnaround and proper operation of our systems, our facilities are equipped with utilities to handle multiple systems simultaneously. Since our systems are shipped globally we utilize U.S. standard utility requirements, but also include voltages of 380 and 480 VAC. Our U.S. facility also incorporates a 50 ton (12,000 BTU/ton), 150 gpm central water chiller.
In addition, we offer R&D labs fitted with standard deposition tools and analysis equipment for product development and customer process support. Our Applications Lab capabilities evolve over time as new products and techniques are developed and tested, but typically include standard PVD sputtering capability, e-beam and thermal evaporation, and dynamic ALD processes. See our Deposition Techniques Section.
The Kurt J. Lesker Company has a separate clean assembly area for the assembly, testing, and servicing of our TORUS® sputtering cathodes and ion sources. Inspection, rebuilding, cleaning, magnetic field mapping and field strength analysis can all be accomplished in a secure, clean environment.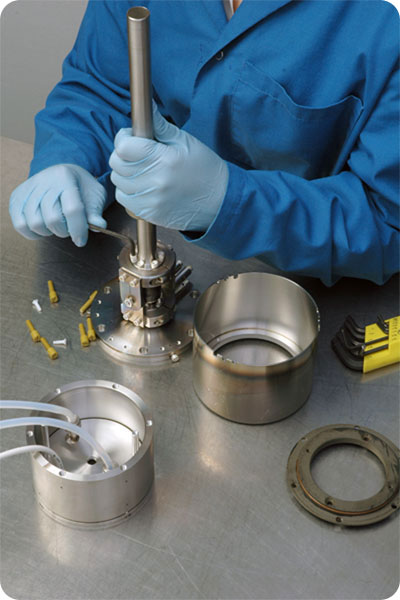 Other services include rebuilding and cleaning of standard components, such as linear rack and pinion (LRP) drives, linear shifts, and magnetically coupled rotary drives. Servicing and troubleshooting of electrical components such as KJLC power supplies, source switches and filters, and gauge controllers is also offered.
In support of our Assembly, Test and Service departments, we have a full staff of experienced machinists in our on-site Fabrication Department. This area includes manual mills, lathes, cutting, sheet metal fabrication equipment, MIG/TIG welding, plasma cutting and bead blasting capabilities. This on-site capability allows our production departments to quickly make modifications or corrections without jeopardizing our manufacturing schedule or quality.
Orbital welding of electro-polished stainless steel process gas lines for all our process equipment greatly reduces the possibility of contamination due to trapped volumes. This also eliminates the possible contamination due to micro cracks formed by sharp bends in electro-polished tubing.
In-house cleaning and packaging facilities allow KJLC to properly prepare vacuum components prior to customer shipment or assembly into a vacuum deposition system.