The Kurt J. Lesker Company® (KJLC®), a global manufacturer of vacuum systems, thin film deposition tools and vacuum components, today announced that the United States Patent and Trademark Office has issued US patent number 9,695,510, 'Atomic Layer Deposition Apparatus and Process', covering the design of an atomic layer deposition system and the process to use that system to deposit highly precise and conformal thin films. This proprietary technology substantially reduces the interaction of various precursor gas molecules with the internal surfaces of the reaction chamber and enables actual focusing of gas streams to more effectively coat the surface of arbitrarily large substrates.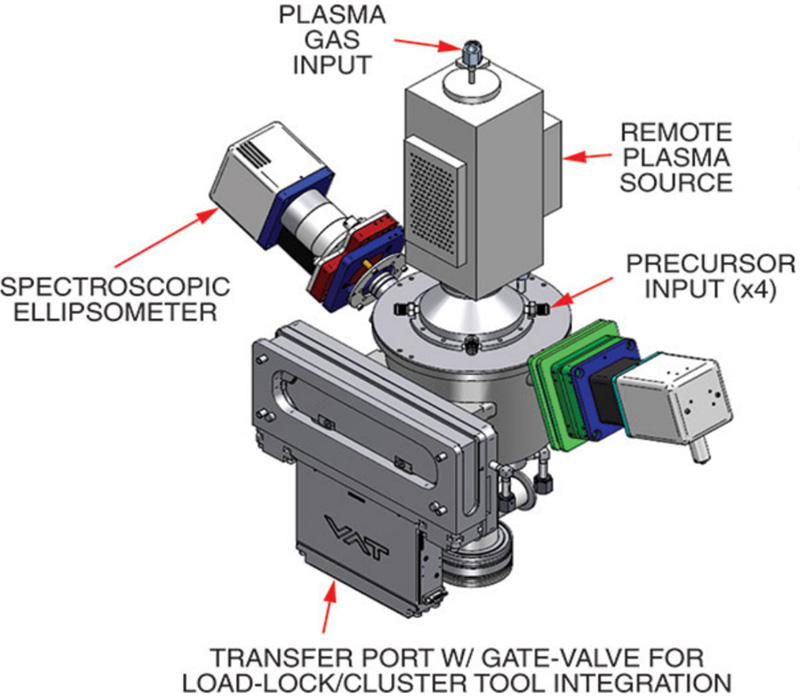 Plasma-enhanced atomic layer deposition (PEALD) is a thin film deposition technology that enables the precise and conformal growth of individual monolayers of a wide range of materials. Under ideal conditions PEALD is a surface-controlled film growth technique based on sequential, self-limiting, chemical reactions and represents one of the few deposition technologies that can produce ultra-thin layers required by next generation semiconductor devices. The process produces dense, pinhole-free films of pure metals, oxides, nitrides and other materials. The shower head utilizes the company's unique Precursor Focusing TechnologyTM (PFTTM) where a system of independent gas streams, in viscous-laminar flow, is utilized to minimize exposure of precursor gases to reactor walls which extends the interval between maintenance cycles. Dr. Bruce Rayner, Principal Scientist for Atomic Layer Deposition at KJLC, and inventor of PFT, commented, "Precursor focusing was developed in response to the need for an extremely flexible, advanced R&D reactor design—without sacrificing high performance process capability."
The patent describes the design of an exclusive shower head for atomic layer deposition (ALD) that has been uniquely engineered to enhance the performance of complex, multi-port, reactor designs which may support integrated vacuum transfer, plasma sources, inlet ports for multiple gases, and real-time characterization like ellipsometry. This shower head design demonstrates a unique understanding of gas flows and mitigates many of the process challenges encountered in other ALD system designs. Noel O'Toole, Product Manager for Atomic Layer Deposition at KJLC, added, "The reactor competes in performance with all-metal seal reactors, but maintains service flexibility and reduces costs of ownership by increasing the mean time between service intervals."
This novel approach to ALD reactor design utilizes a curtain gas to protect the reactor side walls, optical and gas inlet ports and load locks from unintended collateral coatings that could occur by the pervasive diffusing of process gases.
In Figure 2 Gas 1 is injected through a central injection port positioned directly above the substrate surface. This injection port is surrounded by Gas 2 which creates a virtual barrier that focuses Gas 1 toward the substrate surface, thereby limiting diffusion toward the chamber walls and ports. Additional process chamber ports are not shown in Fig. 2 for clarity.
The center axis of the reactor is perpendicular to the substrate where the plasma and precursor exhaust ports are aligned to optimize gas flow uniformity. Inactive gas, typically argon or nitrogen, is provided through all reactor ports to eliminate dead-space volumes and prevent trapping of precursor gases or vapors. In addition, the reactor utilizes highly engineered gas dispersion plates for all gases which further promotes complete distribution and uniformity in the process chamber.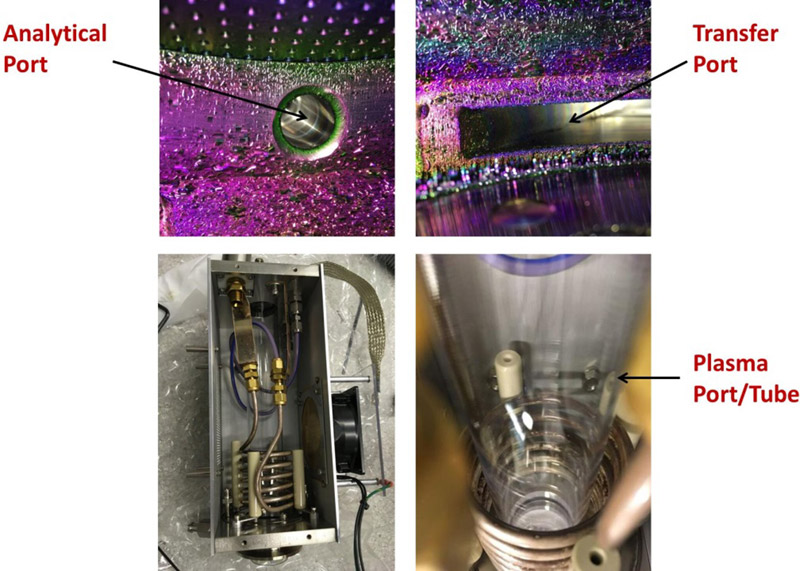 This patented approach to PEALD reduces the exposed surface area in the reactor by 55%. This substantially reduces precursor consumption and shortens required purge times while protecting sensitive reactor surfaces, like ellipsometry view ports. This results in faster deposition rates and less down-time for a lower cost-of-ownership.