The Kurt J. Lesker Company, has expanded the capabilities of its Pittsburgh thin film applications laboratory with the addition of a model KDF 603 pilot production thin film deposition system, from its newly acquired subsidiary, KDF Technologies. The addition of the KDF thin film deposition tool will enable our Pittsburgh-based experts to perform coating trials for new prospects while optimizing the 603 system with the addition of features including plasma emission monitoring – critical to reactive sputtering.
The Lesker PVD Applications Laboratory
The new KDF model 603 joins a suite of unique Lesker physical vapor deposition (PVD) and atomic layer deposition (ALD) systems currently in use by our applications team. The Apps lab is focused on the development and demonstration of deposition processes for a variety of thin film materials via evaporation, sputtering and gas-phase techniques. The newly added KDF model 603 will also enable the development of multi-layer thin film stacks and thin film devices. The system also provides a test bed for future vacuum component development, like advanced sputtering cathodes, and a new, regional, training capability for vacuum technologists interested in pilot product of thin film devices.
Vertical Cathode/Substrate orientation
Cathode orientations, such as sputter down, or even sputter up – if the source-to-substrate distance is short, promote particle inclusions in films. The KDF model 603 is specifically configured for the deposition of materials which are prone to generate particulate during the sputtering process. Its vertically mounted cathodes help ensure that any particulate generated from the sputter target, or within the sputter plasma, is less likely to be imbedded in a depositing film.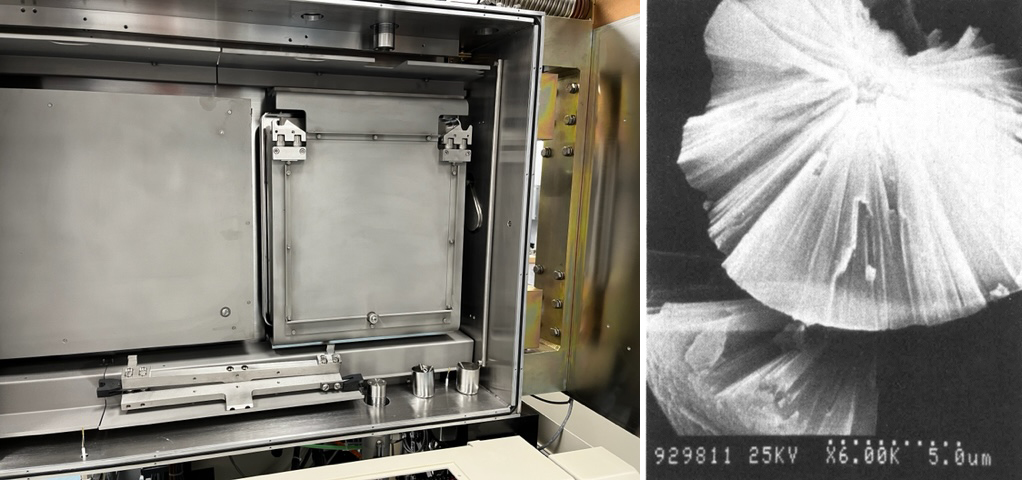 The system also features the patented Linear Moving Magnetron1 (LMM), which enables improved target utilization. This advanced cathode design also substantially reduces arcing – another source of particulate and unwanted target damage during extended reactive sputtering processes. This can also be critical for sputtering specific materials which are prone to arc.
With the 603 equipped with several cathodes, the deposition of multi-layer thin films can be accomplished without breaking vacuum and exposing delicate layers to atmospheric gases including water vapor. The multi-layer thin film deposition capability makes the 603 perfect for electronic and opto-electronic device fabrication, including quantum sensors and photovoltaic cells.
Unique Features of the KDF 603
The KDF system is designed for cost-effective, small-scale, batch production of thin films for applications requiring multilayers. The system represents a mature design, optimized over years of production and feedback from users. The base 603, with its rough pumped load lock, allows users to achieve fast production exchange cycles. The 603 is typically used to produce thin film circuitry, chip resistor and resistor networks, and medical devices, along with a host of applications, including quantum technologies. Its unique capabilities include:
Pallet dimensions 13 x 13", (up to 36 pieces of 2" diam wafers)
Chamber ultimate ≤1 x 10-7 torr
Chamber leak rate, 20 minutes to 1 x 10-4 torr
Pump down from atmosphere 110 minutes or less to 1 x 10-6 torr or 2 x 10-7 torr overnight
Multiple bias types for denser and more planarized films
Substrate temperature control
The KDF 600 series supports several critical deposition processes enabling the deposition of films from sources that are either electrically conductive, or insulators. The KDF tool also employs a variety of novel cathode designs. This gives the KDF 603 an expansive suite of materials which can be sputtered by various processes, including:
DC Magnetron Sputtering
Pulsed DC Magnetron Sputtering
Reactive Sputtering
High Impulse Power Magnetron (HIPIMS) sputtering
RF sputtering
RF Plasma substrate cleaning
The unique load lock feature on the 603 enables the rapid change of substrates and substrate size, which facilitates process development and scaling. It also enables more pristine vacuum conditions within the deposition chamber, which can be isolated from exposure to atmospheric gases during the load/unload cycle.
Apps Lab Projects based on the KDF 603
With the new capability, Lesker engineers can now apply their decades of thin film deposition process knowledge to a new platform, expanding the Lesker Company's market reach beyond R&D and into small-scale production. The installation in Jefferson Hills adds another training and demonstration location, outside of the KDF home base in Rockleigh, NJ. In addition to demonstrations and training, the tool will also be used for process development for new materials and applications.
The system is particularly suited for applications in many industries including:
Quantum technologies
Thin film circuitry
Sensors
Emerging materials
Small Area Flat panel displays
Photovoltaics
Optical filters
Medical devices
How to Access the Applications Lab and our thin film deposition experts
For more information on the new KDF 603 and how to access our thin film apps laboratory, Nick Franzer is eager to discuss new applications at NickF@Lesker.com or (412) 387-9159.
References:
US Patent 7,101,466 B2, Linear Sweeping Magnetron Sputtering Cathode and Scanning in-line System for Arc-free Reactive Deposition and High Target Utilization, Sep. 5, 2006.