To celebrate Women's History Month, we spoke with Cindy Lesker who is currently an Owner, Chairwoman, and Vice President of Information Technology at the Kurt J. Lesker Company. Earlier this year, Cindy was a finalist for the prestigious CIO of the Year award by the Pittsburgh Technology Council.
We caught up with Cindy to find out about her journey to being the Chairwoman and CIO of KJLC and what Women's History Month means to her.
How did you first become involved in the vacuum industry and the Kurt J. Lesker company?
When my husband Kurt III completed his MBA, we moved back to Pittsburgh so he could take a job with Rockwell International. At that time his father had a business called the Kurt J. Lesker Company, which he founded in 1954, a relatively small regional manufacturer rep and distribution firm employing a dozen people. I had a math degree and had worked as a communication consultant for AT&T in Philadelphia, then at the Kiewit Computer Center at Dartmouth College for the men that developed the BASIC programming language and Time Sharing. Kurt III asked me to work for his father's company, to check it out and see if at some point it might be a challenge and an endeavour we wanted to take on together. We ended up working together there for 35 years, taking the business to the next level; I was infrastructure and he was sales and vision.
You are currently both the Chairwoman of KJLC and responsible for overseeing the IT side of the business as CIO? Could you tell us about what is involved in these roles and your journey to taking on these roles?
When I joined the Lesker Company I came in at the bottom, addressing past due Commissions Receivable, worked my way through multiple jobs and titles including Office Manager, and started building more infrastructure for the company as it grew. I created many firsts as the organization grew and matured - the first set of Board Reports, the first budgets, and the first divisional reporting. I took the company from manual to electronic, installed the first company-wide computer system in 1982 as a department of one, and have been responsible for growing that department ever since into a team of highly competent, smart individuals who support all the transactional and operational systems for a now large global manufacturing firm, with locations in 5 countries and hundreds of employees.
My Chairwoman responsibilities started in 2015. In this role I believe it is my responsibility to continue to have a sustainable business that will last for generations. Providing careers for hundreds of people is a great reward, plus helping to change the world in a positive way through the work we do. The key to success is having a strong CEO and leadership team in place that will evolve the business and maintain our SPIRIT (Sustainability, Passion, Integrity, Respect, Innovation, TEAM) driven culture.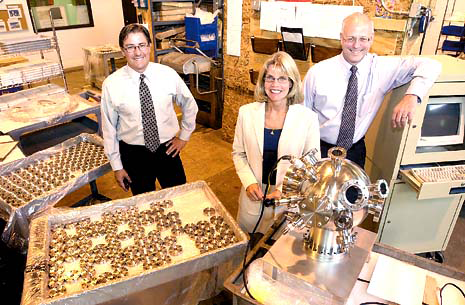 What are some of the challenges of your role as Chairwoman and CIO?
Being responsible for the welfare of our employees and our data and systems and therefore our sustainability is huge. People's livelihoods depend on the decisions that we make as a company. We have a very strong family culture and care a great deal about our people which is evident in our SPIRIT values. Those values also drive our relationships with our customers and partners. Customer service has always been extremely important to us. I want our employees and customers to be able to speak to a person, not a computer, but also have the flexibility to use technology tools to get information quickly about our products. Technical capabilities is key. As CIO, being proactive and innovative while also mitigating risk is essential.
Earlier this year you were a finalist for CIO of the Year by the Pittsburgh Technology Council. How did you feel about receiving this recognition for your work and what would you say are some of your biggest achievements since being in the role?
It is nice to be recognized, but the reality is it is not the individual, it is all about your team and having strong smart hardworking people that work well together towards a common goal. My biggest accomplishment over the life of my career at KJLC was probably our first company-wide computer system in 1982, because it so drastically changed who we were and capable of being. It was a revolution and mind set change for everyone and then being able to have that system continue to prosper when our vendor went bankrupt because I had the insight to have secured the code and could maintain the system internally. The second was likely when we moved to a Microsoft Platform in 2007, from green screen technology to PC's, another revolution which allowed us to increase our sales by 50% and double our bottom line. Creating a team of people outside of IT, from the functional areas, which we donned the name Captains, and having them work so well as a team was essential to our success.
Beyond processes, and in many ways more important is having the right people in place to maintain the safety and security of our information systems. Having the right infrastructure and personnel to support dynamic changes like COVID19, remote access, cyber- attacks, BREXIT, compliance, and changes within the organization is essential. Staying innovative while protecting our business. Balancing this is a key to being successful.
You built a family of strong intelligent women with both your daughters working closely with you in other leadership roles. Do you think this representation of women in high level roles has played a part in improving and supporting diversity across the organization?
The more women you have in higher level roles, I believe the easier it is for other women to feel confident and accepted there as well. We have several non-family women in top positions, some that led the way before my daughters, and showed everyone that women can be equally as successful as men, and more so based on their style and capabilities. As an organization we strongly support diversity and inclusion and often it is the women at our company that lead these endeavours for others.
I am very proud of my daughters who were independently successful prior to joining the Company. They were driven to get an education, work at other businesses, learn as much as they could and be successful based on their talents. This not only gave them great credibility when they joined our business, but always allowed them to bring in new ideas and concepts, and help take us to new levels. I am so proud of them both and the influence they have had. I feel lucky they chose the company as their current career path because their leadership has had substantial impact. We have always been a goal-oriented family and encouraged learning, growing, and evolving to stay successful.
What does awareness days like International Women's Day and Women's History Month mean to you?
I look at the women who have done incredible things over the years and have great admiration for their strength, their courage, and their passions. When we look and see how much the world has changed, that before 1920 in the USA women did not even have the right to vote, it is somewhat mindboggling. Even more disheartening is where we still have to fight for equal rights in countries all over the world. But as we stand up together, we will continue to make a difference. This month is about women supporting women, and help providing the tools, inspiration and paths to be successful.
Your son and CEO of the Kurt J. Lesker Company, Kurt Lesker IV, is a self-professed feminist and strong supporter of the career paths of women in KJLC - which really shines through in his leadership. Is this something you and your late husband, Kurt J. Lesker III, instilled in him growing up?
We treated all our children the same and encouraged them all to excel at whatever they did, to be leaders and if they could not find an organization to support something that was needed then they should step up and create it. We led by example. Hopefully watching a working mother who adored her children but also had a career and passion for business set a strong example.
Kurt IV grew up in a family that encouraged opinions and each person was valued. We also did our best to assure all our children's voices were heard equally. They were taught to work hard, play hard, pursue their passions, be competitive, be caring, and be leaders, male or female made no difference.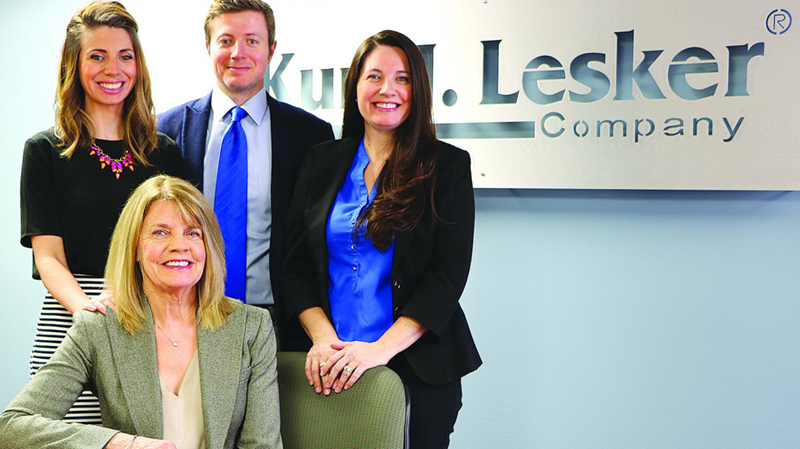 You and the rest of the Lesker family are involved in some amazing charitable and sustainability endeavours. Could you please tell us more about your involvement with these?
As a corporation we strive to promote all our employees to engage in charitable events. We offer opportunities each year to participate in many different events from environmental clean ups, toy drives, Veteran rides, Big Brothers Big Sisters, to Make a Wish to name a few. If our employees participate in a percentage of the events, they earn an extra day off. That is our way of saying thank you for being a good corporate citizen and stewards in the community. Encouraging and hopefully inspiring hundreds of people to make a difference has bigger impact than just one of us. We encourage the same mindset in our children and now grandchildren, they are the future. I personally support multiple organizations and some of my passions include Autism Research, Sarcoma Research, Children's Hospital initiatives, and Animal Rescue.