Platinum (Pt) Wire Evaporation Materials
Platinum (Pt) Wire Overview
We sell these pellets and pieces by unit weight for evaporation use in deposition processes. These approximate materials prices are published to provide budgetary guidelines. Actual prices can vary and may be higher or lower, as determined by availability and market fluctuations. Contact international@lesker.com for current pricing.
Platinum (Pt) General Information
Platinum is one of nine precious metals on the periodic table. It has a melting point of 1,772°C, a density of 21.4 g/cc, and vapor pressure of 10-4 Torr at 1,747°C. It is a radiant, silvery-white metal that bears a striking resemblance to palladium. It is dense, malleable, ductile, and corrosion resistant in air. Its most prominent commercial application is as a catalytic converter in vehicles. Platinum is evaporated under vacuum for the manufacture of semiconductors, fuel cells, and batteries. It is also utilized as a layer for optical coatings. Platinum is commonly found in jewelry and laboratory instruments.
Platinum (Pt) Specifications
| | |
| --- | --- |
| Material Type | Platinum |
| Symbol | Pt |
| Atomic Weight | 195.084 |
| Atomic Number | 78 |
| Color/Appearance | Metallic Gray |
| Thermal Conductivity | 72 W/m.K |
| Melting Point (°C) | 1,772 |
| Coefficient of Thermal Expansion | 8.8 x 10-6/K |
| Theoretical Density (g/cc) | 21.45 |
Z Ratio
0.245
E-Beam
Excellent
Thermal Evaporation Techniques
Crucible: C
E-Beam Crucible Liner Material
FABMATE®, Graphite
Temp. (°C) for Given Vap. Press. (Torr)
10-8: 1,292
10-6: 1,492
10-4: 1,747
Comments
Alloys with metals. Films soft, poor adhesion. Temperatures required to achieve deposition may not be practical for thermal evaporation.
Z-Factors
Empirical Determination of Z-Factor
Unfortunately, Z Factor and Shear Modulus are not readily available for many materials. In this case, the Z-Factor can also be determined empirically using the following method:
Deposit material until Crystal Life is near 50%, or near the end of life, whichever is sooner.
Place a new substrate adjacent to the used quartz sensor.
Set QCM Density to the calibrated value; Tooling to 100%
Zero thickness
Deposit approximately 1000 to 5000 A of material on the substrate.
Use a profilometer or interferometer to measure the actual substrate film thickness.
Adjust the Z Factor of the instrument until the correct thickness reading is shown.
Another alternative is to change crystals frequently and ignore the error. The graph below shows the % Error in Rate/Thickness from using the wrong Z Factor. For a crystal with 90% life, the error is negligible for even large errors in the programmed versus actual Z Factor.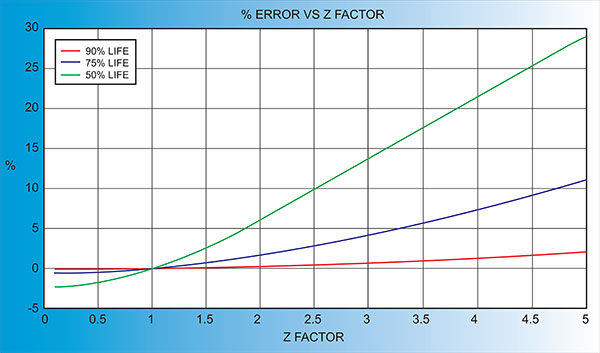 Don't forget to order your Evaporation Sources
Material Notes
Thermal Evaporation of Platinum (Pt)
Thermal evaporation of platinum is very difficult and not recommended. Temperatures needed to evaporate platinum likely exceed the temperatures reasonable to evaporate via resistive heating.
We recommend a base pressure for evaporation to be 10-6 Torr or lower. The temperature required to raise platinum's vapor pressure to a reasonable rate for deposition (we often use 10-2 Torr) is around 2,100°C. Under these parameters, we anticipate the deposition rate to be 1-5 angstroms per second. However, this high temperature requirement creates many challenges for the boat or filament sources available for thermal evaporation. Many of these sources are rated to a maximum temperature of 1,800°C while others are rated at even lower temperatures. In addition, platinum alloys with refractory metals. Therefore, attempting to thermally evaporate out of a tungsten or molybdenum boat source will be futile. Once the platinum becomes liquid, it will alloy with the boat, causing it to become brittle and crack. Breaking boats loaded with expensive material is a major concern for most users, as well.
Other materials which alloy with refractory metals are often times evaporated successfully from an alumina-coated boat or basket. However, these sources have a low temperature rating of 1,600°C which is well below the temperature platinum needs to evaporate.
For these reasons, sputtering or e-beam evaporation are the preferred methods for depositing platinum.
E-beam Evaporation of Platinum (Pt)
Platinum is rated excellent for e-beam evaporation. We recommend using a FABMATE® or graphite crucible liner or running it directly from the hearth of the e-gun.
We also recommend sweeping the e-beam and ramping power to fully melt the material. Once melted, a focused e-beam can be used to deposit films. With an evaporation temperature of 2,100°C and a base pressure of 10-6 Torr or lower, we anticipate a deposition rate of 1-5 angstroms per second. It is important to note that carbon contamination from the crucible liner may occur. One way to reduce this is to decrease the power and the deposition rate.
A key process note is to consider the fill volume of the crucible liner. We find that the melt level of a material in the crucible directly affects the success of the crucible liner. Overfilling the crucible will cause the material to spill over and create an electrical short between the liner and the hearth. The outcome is cracking in the crucible liner. This is the most common cause of crucible liner failure. Placing too little material in the liner or evaporating too much material before refilling can be detrimental to the process as well. When the melt level is below 30%, the e-beam is likely to strike the bottom or walls of the crucible which immediately results in breakage. Our recommendation is to fill the crucible between 2/3 and 80% full to prevent these difficulties.
Crucible liners should be stored in a cool, dry place and always handled with gloves or forceps.
Platinum can also be evaporated directly from the copper hearth of the e-gun. Because of this, some customers prefer to use a pre-machined slug (or starter source) that is directly placed in the hearth pocket. The two main benefits of using a starter source are ease of use and handling as well as superior packing density. Because not using a crucible liner is not always an option, especially in shared systems, some customers will use a copper crucible liner and place the starter source in the copper crucible liner instead of placing directly in the hearth.
KJLC® can produce these starter sources. Contact sales@lesker.com with your e-gun manufacturer, pocket size, and number of pockets in order for us to produce a quote.

See highlighted results that match your result in the table below.





Ordering Table
Material
Size
Quantity
Purity
Part Number
Price
In Stock
Add To
Cart
Material
Size
Quantity
Purity
Part Number
Price
In Stock
Add To
Cart
Platinum
0.020" Dia.
Per ft.
99.99%

EVMPT40020

$80.19