Feedthroughs & Viewports > Electrical Feedthroughs > Coaxial Feedthroughs > Cabling Instructions for Feedthroughs
BNC Feedthroughs Cabling Instructions & Specifications
Features
Feature grounded or floating shields
Designed and rated for use in high and ultrahigh vacuum applications
Single-ended assemblies come with one air-side cable connector, but without vacuum-side connectors. Optional push-on contacts and vacuum-compatible cables are available
Double-Ended assemblies come with air side cable connector only
Specifications Table
Impedance
48–52 ohms
Conductor Material
Stainless Steel
Insulator Material
Alumina
Cable
RG-58U
Connection
Bayonet
Vacuum Application
HV or UHV
Temperature Range
(for metal seals)
Weld adapter, CF: -200° C to +450°C
Temperature Range
(for elastomer seals)
KF, O-Ring, NPT: To +150° C
Temperature Max. Ramp Rate
25°C / Minute
Temperature Range
(cable connectors)
-65°C to +165°C
Max. Voltage
(for floating shields)
Shield-Ground: 2,500V DC
Shield-Pin: 500V DC
Max. Voltage
(for grounded shields)
500V DC
Max. Current
3A
*NOTE: Standard feedthroughs are unmatched. 50-ohm matched impedance connectors are available at an additional cost.
BNC Coaxial Connector Cabling Instructions

1) Cut and strip jacket to 0.28".

2) Comb out braid. Taper ends toward conductor center.

3) Slide nut, washer, and gasket over cable. Slide clamp over braid so that its inner shoulder fits against end of cable jacket.

4) Comb braid back over clamp and trim to 0.09" from end. Trim dielectric to 0.13", leaving an exposed conductor length of 0.09". Be very careful not to nick it in the process. Wet conductor with a non-acid core 60–40 tin–lead solder.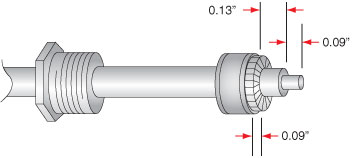 5) Slide contact pin onto conductor until it butts with dielectric. Solder in place using a 60–40 tin–lead solder. Remove excess solder. Do not overheat cable dielectric because swelling may prevent insertion of cable into the shell.

6) Slide cable assembly into shell as far as it will go then slide nut into shell. Hold cable and shell securely while tightening screw with wrench.