Electrical Feedthrough Accessories
Electrical and thermocouple feedthroughs have a variety of connector and cabling accessories including:
Standard air and vacuum connectors
Thermocouple extension wires
Regular air and vacuum compatible wires
Copper braid there are some less-obvious but nevertheless useful cable/lead accessories
However, in addition to these well-known accessories there are other, less obvious but useful devices:
Ceramic drilled disks for separating multiple bare conductors on the vacuum side of a feedthrough
Ceramic fish-spine beads for insulating single conductors, enabling the central conductor to be flexible while maintaining good high voltage insulation
Metal barrel connectors to provide screw connections between plain bare wire
Electrical Cable Terminations
Termination B — Contact Style
Basic cable terminations feature push-on contacts for single-end 0.094" diameter conductor pin
Ideal for quick-connect applications where non-continuous coaxial shielding** is acceptable
Spring retention design limits the temperature rating to 200°C
Termination C — In-Line Style
Used for non-continuous coaxially shielded** applications
Mechanical screw clamping design
Temperature rating of 400°C
Terminations E & F — BNC/MHV
High-temperature versions of the traditional bayonet naval connection, 400°C
Connect double-ended BNC or MHV coaxial feedthroughs mounted in the vacuum wall to any vacuum component fitted with a female BNC or MHV connector
Use where continuous coaxially shielded* applications are required
NOTE:
Do not cross-mate BNC and MHV components

Termination M — Microdot
Coaxial
Designed for use with Between Series BNC-Microdot Feedthroughs
NOTE:
These cables must be shielded when used in vacuum coating applications. Failure to do so will lead to electrical degradation and eventual failure.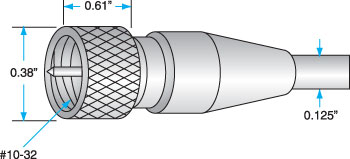 * Continuous coaxial shielding: The ground shield of the coaxial assembly has no breaks in electrical continuity from the assembly to the earth ground plane.
** Non-continuous coaxial shielding: The ground of the coaxial assembly has a break in electrical continuity from the assembly to the earth ground plane.