ISO HV Flanges Technical Notes
ISO HV Flanges (also called Large ISO) have a sexless design and are made from 304L stainless or aluminum.
The design principles of ISO and KF seals are identical. Each flange face is counter-bored or grooved to receive a metal centering ring with an elastomeric o-ring around its O.D. As with KF, the ISO centering ring both aligns the flanges and holds the o-ring in place. However, because the larger diameter ISO o-ring is more likely to "roll off," a spring-loaded retainer holds it externally. ISO HV Flanges are limited (by the o-ring's properties) to applications with temperatures between ~0° C and 120—180° C, and pressure from atmosphere to ~10-8 Torr or mbar. ISO HV Flanges are universally sized by the nominal I.D. (in, mm) of the largest tube that can be welded to the flange. The standard sizes are: 63, 80, 100, 160, 200, 250, 320, 400, 500, and 630.
The ISO-K is convenient and has the smallest flange O.D. for any given tube I.D. The ISO-F offers greater strength when used as a structural element.
A variety of bolt/clamp options permit joints between mixed ISO-K and -F flanges. The illustrations (Figures 1-4) show various possible clamping arrangements.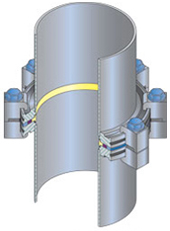 Figure 1:
ISO Double Clamp Nipple Assembly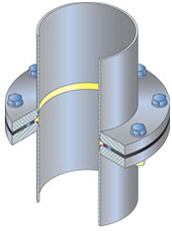 Figure 2:
ISO Bolt Nipple Assembly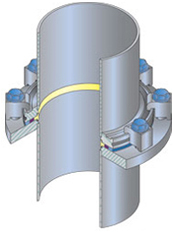 Figure 3:
ISO Single Clamp/Bolt Nipple Assembly
Figure 4:
ISO Bolt Ring Nipple Assembly
Two flange "styles":
ISO-K flanges (Figure 5): use separate clamps placed around the flange's periphery
ISO-F flanges (Figure 6): use conventional bolt holes and nuts/bolts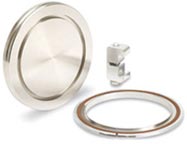 Figure 5:
ISO100 K-Style Flange & Hardware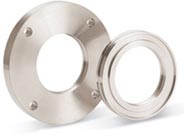 Figure 6:
ISO63 "F" & "K" Style Flanges
Table 1: Centering Ring Dimensions
Size
Lip O.D.
in.(mm)
Lip I.D.
in.(mm)
Thickness
in.(mm)
ISO 63
2.756 (70)
2.63 (66.8)
0.154 (3.9)
ISO 80
3.268 (83)
3.14 (79.8)
0.154 (3.9)
ISO 100
4.016 (102)
3.89 (98.8)
0.154 (3.9)
ISO 160
6.024(153)
5.90 (149.9)
0.154 (3.9)
ISO 200
8.386 (213)
8.26 (209.8)
0.154 (3.9)
ISO 250
10.276 (261)
10.14 (257.6)
0.154 (3.9)
ISO 320
12.520 (318)
12.30 (312.4)
0.220 (5.6)
ISO 400
15.748 (400)
15.53 (394.5)
0.220 (5.6)
ISO 500
19.724 (501)
19.51 (495.6)
0.220 (5.6)
ISO 630
25.630 (651)
25.41 (645.4)
0.220 (5.6)
Table 2: ISO K-Style Flange Dimensions
Flange Size
Tube O.D.
(in.)
Flange O.D.
in.(mm)
Flange Thickness
in.(mm)
Number of Clamps
Assembly Diameter
in.(mm)
Minimal
Optimal
ISO 63
2.5
3.74 (95)
0.47 (11.94)
3
4
5.00 (127)
ISO 80
3
4.33 (110)
0.47 (11.94)
4
8
5.59 (142)
ISO 100
4
5.12 (130)
0.47 (11.94)
4
8
6.38 (162)
ISO 160
6
7.09 (180)
0.47 (11.94)
4
8
8.35 (212)
ISO 200
8
9.45 (240)
0.47 (11.94)
6
12
10.71 (272)
ISO 250
10
11.42 (290)
0.47 (11.94)
6
12
12.68 (322)
ISO 320
12.75
14.57 (370)
0.67 (17.02)
8
12
16.73 (425)
ISO 400
16
17.72 (450)
0.67 (17.02)
8
16
20.08 (510)
ISO 500
20
21.65 (550)
0.67 (17.02)
12
16
24.02 (610)
ISO 630
24
27.17 (690)
0.87 (22.10)
14
18
29.53 (750)
Table 3: ISO F-Style Flange Dimensions
Flange Size
Tube O.D.
(in.)
Flange O.D.
in.(mm)
Flange Thickness
in.(mm)
No. of Bolts
Holes Diameter
in.(mm)
BCD
in.(mm)
ISO 63
2.5
5.12 (130)
0.47 (11.94)
4
0.35 (9)
4.33 (110)
ISO 80
3
5.71 (145)
0.47 (11.94)
8
0.35 (9)
4.92 (125)
ISO 100
4
6.50 (165)
0.47 (11.94)
8
0.35 (9)
5.71 (145)
ISO 160
6
8.86 (225)
0.63 (16.00)
8
0.43 (11)
7.87 (200)
ISO 200
8
11.22 (285)
0.63 (16.00)
12
0.43 (11)
10.24 (260)
ISO 250
10
13.19 (335)
0.63 (16.00)
12
0.43 (11)
12.20 (310)
ISO 320
12.75
16.73 (425)
0.79 (20.07)
12
0.55 (14)
15.55 (395)
ISO 400
16
20.08 (510)
0.79 (20.07)
16
0.55 (14)
18.90 (480)
ISO 500
20
24.02 (610)
0.79 (20.07)
16
0.55 (14)
22.83 (580)
ISO 630
24
29.53 (750)
0.94 (23.88)
20
0.55 (14)
28.35 (720)