Wire Seal UHV Flanges Technical Notes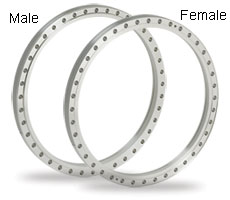 Wire Seal UHV Flanges are sexed—with male/female flanges forming a mating pair that captures an OFHC copper "o-ring" gasket under extreme compression. The material of choice is 304L stainless although 316L stainless may be available as a custom material.
The flanges' design constrains the gasket's flow to form a seal between them. Wire Seal UHV Flanges can be used over the same temperature/pressure ranges as CF flanges. They are used where tube dimensions exceed those of standard CF flanges.
There are three types:
Bored ring flanges
Flat blank flanges
Domed blank flanges
The last uses a thin gauge spherical cap to blank off a ring flange—a considerable weight-saving device, compared to the flat blank flange. Manufacturers used the flange's nominal O.D. to define the size.
While wire seal designs are similar among manufacturers, it is unlikely that a male flange from one manufacturer will match a female flange from another.