Apiezon®T is a filled hydrocarbon grease used for general sealing and lubricating applications in the medium temperature range (optimum consistency temperatures of 25-50°C). The high molecular weight polymer additive property of Apiezon® T grease gives a tenacious consistency to provide extra cushioning between mated surfaces, and therefore, absorbing vibrations in equipment like Apiezon® N grease. Apiezon® T also contains cohesive strength where it keeps mated joints together in an efficient gas tight seal. The strong absorption properties of Apiezon® T grease allows it to absorb greasy or chemical impurities on metal and glass surfaces, which is useful in the electronic industry because cleanliness of metal surfaces is required.
Features
General sealant and lubricant in the medium temperature range
Relatively high melting point makes it useful within the temperature range 10° C to 120° C
Silicone free
"Sticking" power
Similar to Apiezon® H with vacuum properties
Approval by NATO and US Navy
Barrier to oxygen transmission in both vacuum and non-vacuum use
Removal
Apiezon® T grease has no contamination effect on electrical equipment and is easily removed through use of water, soapy water, hydrocarbon solvents (Limonene, Toluene, Xylene) or chlorinated solvents (Trichloroethylene). When Apiezon® T is removed, it also takes away trace impurities that are not removed by solvents alone.
Specifications Table
Vapor Pressure

@20°C: 4.6 x 10-9

Specific Gravity

0.912 (g/cc)

Melting Point

112-137 (°C)

Temperature Range

10 to 120 (ºC), Optimum: 25 to 50 (ºC), Soft: 50 to 120 (ºC)

Coeff. of Expansion

20-30 °C: 0.00073 (cm/°C)

Volume Resistivity

3.3 x 1012 (ohm cm)

Permitivity

2.3

Loss Tangent

<0.0001

Surface Breakdown at
Flash Over

24 (kV)

Electric Strength

730 (V/mil)
Vacuum Properties
Apiezon® T grease exhibits vacuum properties in the lower to medium vacuum range at higher operating temperature ranges (50-120 °C). However, at lower temperatures (<50 °C) Apiezon® T grease can be used in the high vacuum range.
Shelf Life
It is strongly recommended using all fluids and greases at the time of receipt, however when storage is necessary, rotate older stock into use first and observe the recommended parameters listed below.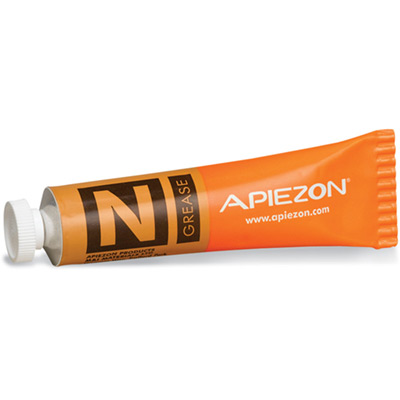 Apiezon
All Apiezon products have a shelf life of 10 years if unopened in their original container and stored at ambient temperatures. If the product has been opened, resealed and then stored in a clean, dry, dark environment under ambient conditions in the original container, it should last up to 10 years, but this is not guaranteed.
Ordering Table
All dimensions listed below, unless otherwise stated, are in grams.
| | Description | Grade | Size | Safety Data Sheet | Part Number | Price | In Stock | Add To Cart |
| --- | --- | --- | --- | --- | --- | --- | --- | --- |
| | Description | Grade | Size | Safety Data Sheet | Part Number | Price | In Stock | Add To Cart |
| | APIEZON T 25GM TUBE HC VAC GREASE | Apiezon T | 25 g | | APTB | $224.00 | | |