Exclusive KJLC product is a fully synthetic hydrocarbon oil made by polymerizing ethylene.
Features
Extremely low carbon-carbon double bond unsaturation makes it the most stable hydrocarbon fluid possible
Ideal for more chemically active applications: ion implantation, freeze drying (10), LPCVD, analytical instrumentation, electron microscopy, normal and reactive sputtering, plasma etching, and vacuum conditions required for metal smelting and casting (10)
Permavis 8 works best when used in 2-stage direct- and belt-driven rotary vane pumps intended to reach into the 10-3 torr pressure range
NOTE: Decomposition: Normal combustion forms carbon dioxide; incomplete combustion may produce carbon monoxide.
Specifications Table
Property

Permavis 8

Permavis 10

Vapor Pressure
(Torr) @ 25°C

3 x 10-7

3 x 10-7

Pour Point

-57°C

-53°C

Flash Point

257°C

264°C

Fire Point

290°C

300°C

Specific Gravity

0.832 (g/cc)

0.836 (g/cc)

Viscosity

@40°C (100°F), 46/230
@100°C (212°F), 7.8/52

@40°C (100°F), 63/320
@100°C (212°F), 9.6/60

Color

Clear

Clear

Hazardous Decomposition

*See note

*See note

Incompatibility

Flame

Flame

Hazardous Ingredients

None

None
Shelf Life
It is strongly recommended using all fluids and greases at the time of receipt, however when storage is necessary, rotate older stock into use first and observe the recommended parameters listed below.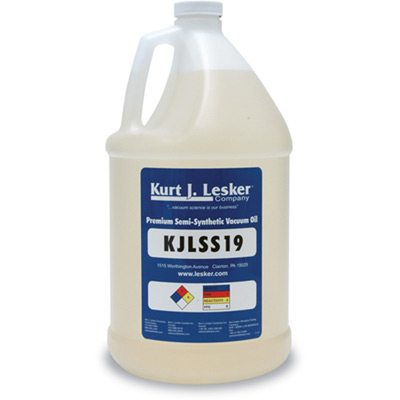 Hydrocarbon Oils
The hydrocarbon oil products do not have an expiration date specified. The longevity of products shipped is based primarily on the storage and handling conditions after the product leaves the control of the Kurt J Lesker Company. Limited laboratory testing indicates that all products will last more than three years from the date of shipment, if unopened and stored in a dry and dark environment at a temperature range of 60F-85F (15-30C). It is up to the individual customer to evaluate the longevity (expiration date) of the product based on their particular storage and handling conditions.