Pump Oils & Fluids Reclamation Services

When purchasing new pump oils from KJLC,
look for this symbol for reclaimable oils.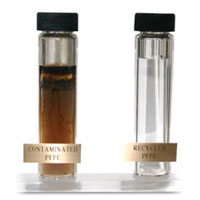 Oils Reclaimed
Start Saving Money and the Environment Today
Step 1 – Contact us at the phone number below or e-mail us at sales@lesker.com to receive your Return Authorization Number and Free DOT Approved Containers to send in your spent fluid. If this is your first time reclaiming fluid, please also fill out the Used Fluid Return Authorization Request.

North America: 1-800-245-1656

Step 2 – Fax or e-mail the Used Fluid Return Authorization Request to 412-233-4275 or sales@lesker.com
Step 3 – After we review the safety form, we will provide you with a quotation for the reclaim service and if necessary, request a sample of your fluid for additional testing.
Step 4 – Fluid will be processed in 3-4 Weeks
Step 5 – We will ship your reclaimed fluid back to your facility along with the certificate of analysis.
Contact our sales department at sales@lesker.com to start a plan today.