MKS® 626C Baratron® Absolute Ambient Temperature Capacitance Manometer
The Baratron 626C ambient temperature capacitance manometer is the latest of MKS' analog RoHS-compliant, capacitance-based, high-performance vacuum and pressure transducers. It requires ±15VDC input voltage and provides a high-level 0-10VDC analog output signal that is linear with pressure. This analog output can be interfaced with an MKS pressure controller, an MKS power supply/display instrument, or any instrument that meets these requirements. The radially-tensioned Inconel® diaphragm in the sensor provides very fast response (<20 msec in many cases), low hysteresis, excellent repeatability, very high resolution (to 0.001% of Full Scale), exceptionally high corrosion resistance, and double-walled welded construction for operator safety. The sensor itself can withstand repeated exposures to 45 psia (3.1 bar) without permanent degradation or shifting, allowing it to operate in virtually any process system.
Features
Specified in percent of reading for best accuracy and improved process yield
Direct measurement of chamber total pressure independent of gas type or composition, eliminates lookup tables and conversion factors
Long-term output stability for state-of-the-art process repeatability
Inconel® and Incoloy® nickel alloy construction of basic sensor operates without damage in virtually any chemical environment, including halogens, deionized water and steam, and ozone
High overpressure limit ensures reliability during system mishaps
Applications
Industrial
Electronic
R&D
Dimensional Drawings
Specifications Table
Model
626C Baratron
Full Scale Ranges
0.1, 0.25, 1, 2, 10, 20, 100, 500, or 1000 Torr & metric equivalents
Overpressure Limit
45 psia (310 kPa)
Volume
6.3 cm3 (Measurement Side)
Materials Exposed to Vacuum
Inconel® and Incoloy® nickel alloys
Accuracy (typical)
0.50% for < 1 Torr
Includes hysteresis, non-linearity, & non-repeatability.
Input Power
±15VDC (±5%) @ 35 mA
Connections
15-pin D-Subminiature
Resolution
0.001% of Full Scale
Output Signal
0 – 10 VDC into > 10 kΩ load
Ambient Temperature
0 to 50°C
Compliance & Standards
CE compliant to EMC Directive 2004/108/EC (for CE compliance, the mating connector must be properly grounded)Fully compliant to RoHS Directive 2
Remote Controllers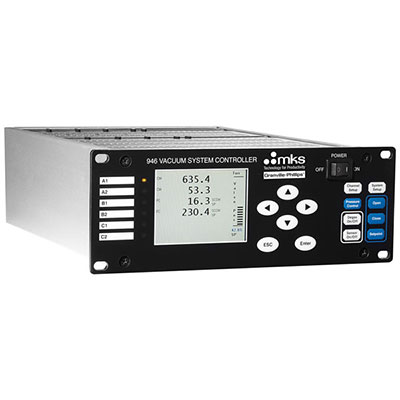 946 Vacuum System Controller
Versatile vacuum controller that supports a wide variety of pressure sensors, MFC's, and valves for system control.
Features and Benefits:
Simultaneous control and readout for up to six MFC's and/or vacuum gauges
Closed-loop pressure control option for use with MKS valves eliminates the need for separate pressure control electronics
Pressure readings from 1,000 Torr down to 10-11 Torr, eliminating the need for individual electronics for each sensor
12 set point relays included in the base unit for system control flexibility
Standalone controller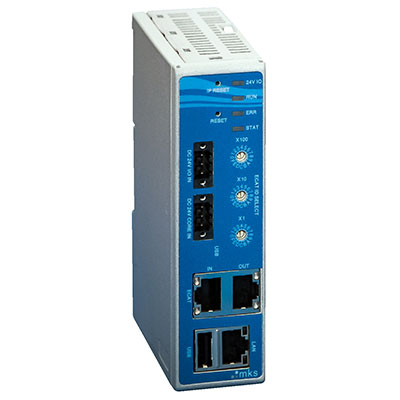 PAC 100
Configurable and expandable module that can allow for full system control.
Features and Benefits:
Allows for continual module expansion for increased workload
Access to Control Workbench software to monitor, record, and control all connected devices
Compatible with MKS MFC's, direct and indirect gauging, valves, etc.
Controlled through a PLC
Low cost of ownership
Power Supply and Readouts
946 Vacuum System Controller
PAC 100 Automation System
Display Type
320x240 color QVGA TFT LCD with back lighting. Up to 6 pressure or flow displays. Display indicators for unit of measure, calibration functions, user calibration, set points, PID control status and valve position.
PC (not included)
Channels
6 of any combination below.
MKS MFC's*MKS Baratrons*, MKS Piranis*, MKS Convectron/Convection Series*, MKS Hot and Cold Cathode Sensors*, MKS Pressure Control Valves*
4 of any combination below.
MKS MFC's*, MKS Baratrons*
**Other modules available
Setpoint Relays
Yes
Yes
Power Input
150 watts maximum 100 - 240 VAC 50/60 Hz
19VDC - 32VDC, Max - 5A (each for DC I/O and DC CORE)
Approximate List Price
$1814 to $5877 (region specific power cable included) (interface cables not included)
$1740 (interface cables not included)
626, 627, 628, E27 & E28 Capacitance Manometer Pin-outs
15-pin Type "D"
| | |
| --- | --- |
| Pin | Description |
| 2 | Signal Output |
| 5 | Power Common |
| 6 | -15 VDC |
| 7 | +15 VDC |
| 12 | Signal Common |
| 15 | Chassis Ground |
Configuration Options
This chart is to help you review all the available options for the MKS® 626C Baratron® Absolute Ambient Temperature Capacitance Manometer. Please see below for an interactive product builder to assemble the options into a part number ready for order.
Ordering Code Example: 622C11TBE
Model
Code
Configuration
Ambient manometer, terminal block electrical connector
622C
622C
Ambient manometer, 15-pin D-subminiature electrical connector
626C
Full Scale Range
Code
Configuration
0.1 Torr (626C only)
.1T
11T
0.25 Torr (626C only)
RET
1 Torr
01T
2 Torr
02T
10 Torr
11T
20 Torr
21T
100 Torr
12T
500 Torr
52T
1000 Torr
13T
Fittings
Code
Configuration
1/2" (12.7 mm) OD tube
A
B
8 female VCR
B
1.33" OD (33.8 mm) Conflat, rotatable
C
NW16-KF
D
8 female VCO
E
NW25-KF
Q
Accuracy
Code
Configuration
0.25% Reading (1 to 1000 Torr) - standard
E
E
0.15% Reading (10 to 1000 Torr) - optional
D
0.50% of Reading (< 1 Torr) - standard
F
---
Start Your Configuration
Please select the model, range, fittings, and accuracy to configure your part number.