Engineering
---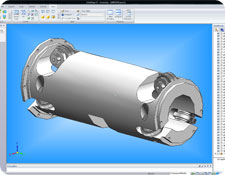 KJLC's team of engineering professionals is skilled at addressing tough technical problems and finding the right answers. Engineering closely supports machine shop and assembly personnel by designing for manufacturability and integration with other equipment where needed. Many of our projects involve non-disclosure or ITAR compliance — all team members are fully conversant with procedures for handling controlled and sensitive information. Lean practices such as 5S, Cellular Manufacturing, Kanban material replenishment, and visual work instructions are part of our everyday workflow.
Areas of Expertise

Industrial Design of Capital Equipment
Conceptual Design through Prototype / Build
Machine Design / Mechanisms Design
Systems Integration (EE, Controls, Software)
Process Gas Distribution
Rough Vacuum through Ultra High Vacuum Applications
Pneumatic Systems
Electrical Power Distribution
Rack and Panel Equipment
Engineering Analysis
Structural Analysis
Thermal Analysis
Detailed Design and Documentation
Prototype Fabrication
Assembly / Test / Debug
Production Scale-up and Integration

Industries of Note

Industrial Products / Capital Equipment
Semiconductor Capital Equipment
Nanotechnology Capital Equipment
Electronic Product Development
Medical Product Development
Nuclear Energy
Solar Energy
Mechanical Engineering

KJLC's engineering department is staffed with mechanical engineers, mechanical designers, and professional engineers who are thoroughly versed in all aspects of product design, manufacturing, assembly, and testing. In addition to full scale design projects, engineers are assigned to aid in design-for-manufacture and cost reduction efforts.

Manufacturing Engineering

KJLC Manufacturing engineers work closely with our mechanical engineers, material procurement personnel, and shop supervisors to identify steps that will improve quality, reduce manufacturing time, and reduce project costs.

Industrial Engineering

At KJLC Manufacturing, Lean is a way of life: continuous improvement; 5S; cellular manufacturing; kanban material replenishment; and visual work instructions are some of the ways our shop team and industrial engineers work together to make all products better, faster, and with fewer errors.

Project Management

All KJLC Manufacturing projects are assigned a project manager to ensure proper handling from start to finish. With the aid of a production router, the project manager controls the manufacturing process and time-line, actively identifying problem areas and coordinating efforts to develop solutions.

Production Scheduling

KJLC Manufacturing uses a powerful scheduling program with real-time data collection to help ensure on-time delivery and forecast/plan capacities across the manufacturing floor. The program provides load charts, machine schedules, and rolling lead times to assist in quoting realistic deliveries and helping supervisors to better determine real capacity.