Kurt J Lesker Company Enables...
OLED Research for Display and Lighting Applications
Over the last two decades, rapid advances in research and development in organic electronics have resulted in many exciting discoveries and applications, including Organic Light-emitting Diodes (OLEDs) for information display and illumination, solar cells, photodetectors, chemosensors, and logic devices.
OLEDs are a fast emerging technology for lightweight colour flat panels used in displays and area lighting applications. OLEDs are solid-state devices comprised of thin films of organic materials that generate light with the application of electricity. The principle of operation of OLEDs is similar to that of inorganic light emitting diodes (LEDs). Holes and electrons are injected from opposite contacts into the organic layer structure and transported to the light emitting layer(s). OLEDs can provide brighter, crisper displays on electronic devices and can potential be cheaper than conventional LEDs or Liquid Crystal Displays (LCDs) used today.
Organic semiconducting materials are broadly classified as polymeric or small molecular. For the latter category, solvent-free thin film deposition techniques are generally preferred to form well-defined interfaces and improve device performance. This process involves controllable evaporation and the transfer of molecules (or atoms) in a high vacuum environment. The evaporation source is thermally heated which results in deposition of a film on a substrate.
The performance of OLEDs and other organic electronic devices depends critically on the morphology, uniformity and composition of the deposited films of which they are comprised, the Kurt J Lesker Company has developed its deposition sources and control systems to allow excellent plume control of the organic material allowing for this.
A Rich History in OLED Thin Film Deposition
In 1999 Kurt J Lesker shipped its first organic deposition system to a highly respected materials manufacturer in the United States. Following on from this success Kurt J Lesker supplied two OLED deposition systems to Novaled in Germany, with a third system a few years later
Since those days, we have strived to perfect our SPECTROS™ product collaborating and working with research partners. With well over one hundred SPECTROS deposition systems in the field around the world including TNO Holst and Imperial College London. Kurt J Lesker has established it's self as a high quality research and development OLED system supplier.
Learn more about Kurt J Lesker's involvement in thin film deposition.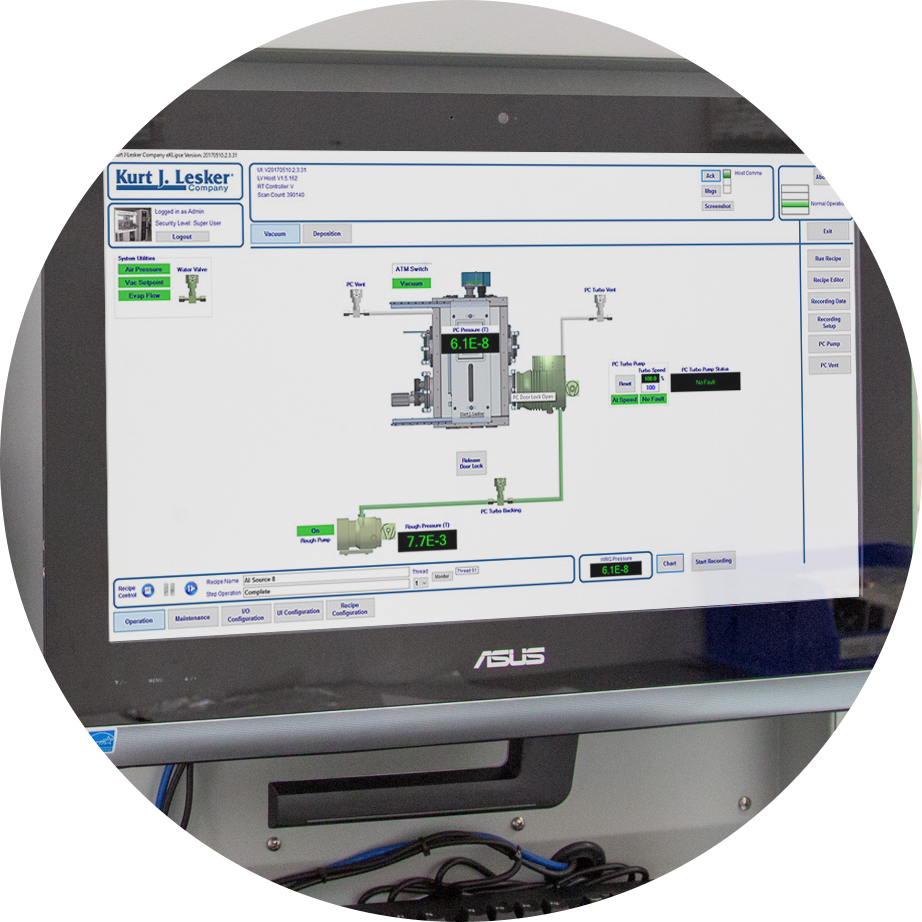 TECHNOLOGY
"Our tools from Lesker are our main workhorses guaranteeing stable and reproducible processing of our organic devices" - Karl Leo IAPP
Controlled deposition of OLED semiconductor material has become increasingly important. The crucial part of the fabrication is the deposition of the active organic layers (films) with a layer thickness between 10 and 100 nanometres. It is achieved by thermal evaporation in a high vacuum environment. The mobility of the charge carriers within the layers and the layer morphology strongly depend on the deposition rates and layer thickness during the deposition process. The desired deposition rates range between 0.01 Å and 5 Å per second. Kurt J Lesker SPECTROS enables control over evaporation rates, film thicknesses and uniformities less than +/- 1.5% over a 200mm x 200mm substrate.
At the heart of our tools is our unique Kurt J Lesker eKLipse™ software control platform that allows the user to accurately control the rate and thickness of each film. Designed 100% in-house the features of eKLipse are:
An easy to use graphical user interface for fast recipe building
An embedded real-time controller for ultimate reliability
Kurt J Lesker thermal evaporation PID hardware for optimum temperature and rate stability, essential especially for controlled co-deposition
Easy to export & import unlimited recipes for maximum flexibility
Multi-user access levels for security of your important research
Simultaneous data plotting for accurate experimental logging
Ability to customize counters for any component to establish precise maintenance scheduling
Remote support functionality for instant diagnosis by trained Kurt J Lesker technicians to help trouble-shooting
Ability to send emails and Twitter notifications of the system and process status keeping the researcher up to date on their research, wherever they are
OLED Supported Technologies
Our scientists and engineers have used our extensive in-house experience to develop solutions that overcome the challenges with putting down thin films of OLED material in vacuum. From customizable base plates for easy upgrades and optimised process geometries for best film uniformities (e.g +/- 1.5% across a 200mm x 200mm substrate). Here are just some of the other unique hardware features we can offer.
WHY US

COME TALK TO US - we have an experienced team of scientists, engineers and designer dedicated to helping you solve your problems, however large or small. With a global reach we can help you and we look forward to helping you

We have simulated uniformities using state of the art simulation tools that we have optimized. Talk to us so we can help you design the best system for your application

Being world leaders in vacuum deposition systems and having thousands of PVD systems installed globally we have a wealth of information at our fingertips and invaluable experience that can help you

Our VacTran software facilitates the execution of laborious vacuum calculations, enabling rapid characterization and evaluation of vacuum system operational data and design alternatives

With PhD scientists and applications lab support we can help you optimise your process. Come visit us, play with our tools and see how we can help you

Ask us a question. We have repository of technical information - and if we don't know the answer straight away then we'll find out for you
PIONEERING RESEARCHERS WHO HAVE OUR SYSTEMS

"The Kurt J Lesker Mini SPECTROS has been invaluable tool here at the Durrant Group Laboratory here at Imperial College, enabling us to research next generation approaches to solar conversion with the ability to put down very reliable, accurate thin films in vacuum. The tool has been expertly supported by the process scientists and engineers in Hastings and it's their passion and genuine interest in our work here that comes through when dealing with them. With the support received and the flexibility and ease of use of the tool we have been able to really make great headway with our innovative research."
Dr. Pabitra Shakya
Research Technician in Organic Electronics
Imperial College London
"Our tools from Lesker are our main workhorses guaranteeing stable and reproducible processing of our organic devices. In particular the combinatorial features have proven to be extremely useful."
Professor Karl Leo
Director
The Dresden Integrated Center for Applied Physics and Photonic Materials (IAPP)

"The team at KJLC work efficiently and have excellent communication skills. KJLC's vacuum devices are precise and have friendly operation interfaces."
Dr. Shangbo Ma
Department Head
Peking University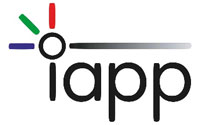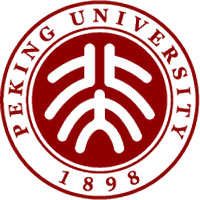 OLED SYSTEM OFFERING
Kurt J Lesker can help. Choose from one of our standard system options below or talk to us more about a custom configuration for your process. We can provide the solutions. We have the experience and we look forward to hearing from you.
We have a range of systems that can accommodate square substrates from 100mm x 100mm up to 200mm x 200mm or standard wafers up to 8" OD. For small R&D substrates, we can provide a custom array sample holder that allows for the mounting of multiple substrates in a single process. Choose from the following or contact us for custom options.
CHOOSE
YOUR
SYSTEM

Substrate Size (maximum)
150mm diameter or 100mm x 100mm square
150mm diameter or 100mm x 100mm square
200mm diameter or 150mm x 150mm square
250mm diameter or 200mm x 200mm square
System Control
eKLipse software control platform with PC-based HMI
eKLipse software control platform with PC-based HMI
eKLipse software control platform with PC-based HMI
eKLipse software control platform with PC-based HMI
Thermal Heater Sources (max)
4
4
3
4
Low Temperature Evaporator
4
4
10
12
Electron Beam Sources
N/A
N/A
1
1
Deposition Material Pellet Feeder
N/A
N/A
N/A
1
Substrate Heating
RT to 350°C
RT to 350°C
RT to 350°C
RT to 350°C
Substrate Cooling
Yes
neg 10 to 80°C
N/A
N/A
Single or Dual Wedge Tool
N/A
N/A
1
1
Chamber
Cylindrical Chamber, 304S, 15.13" (384.302mm) ø ID x 16.25" (412.75mm) Overall Length (OAL)
Box chamber. 304SS. 14" wide x 14" deep x 24" high (355mm x 355mm x 610mm)
Box chamber. 304SS. 18" wide x 18" deep x 37" high (457mm x 457mm x 940mm)
Box chamber. 304SS. 14" wide x 14" deep x 24" high (610mm x 610mm x 1016mm)
Chamber Doors
Spring-loaded, pendulum style, full-access, aluminum front door
304SS sliding front door & Aluminium hinged rear door
304SS sliding front door & Aluminium hinged rear door
304SS sliding front door & Aluminium hinged rear door - optional sliding rear door
Load Lock
N/A
N/A
1
1
Glovebox
Two or four port glovebox
Two or four port glovebox
Two or four port glovebox
Two or four port glovebox
Process Chamber Pump
300 l/s Turbo
800 l/s Turbo
800 l/s Turbo or 1500 l/s Cryo
800 l/s Turbo or 1500 l/s Cryo
Backing Pump
10 m3/h Scroll
10 m3/h Scroll
10 m3/h Scroll
35 m3/h Scroll
Process Chamber Base Pressure
Configuration Dependant
1.5E-7 Torr
3.8E-7 Torr
5.0E-7 Torr
Glovebox Purity Level
<0.1ppm
<0.1ppm
<0.1ppm
<0.1ppm
Would You Like More Information?
Do you have any questions? Click below to get in contact with one of our many experienced team members.
CONTACT US TODAY