Polymer & Solution Processed Perovskites
© Photo University of Oxford Press Office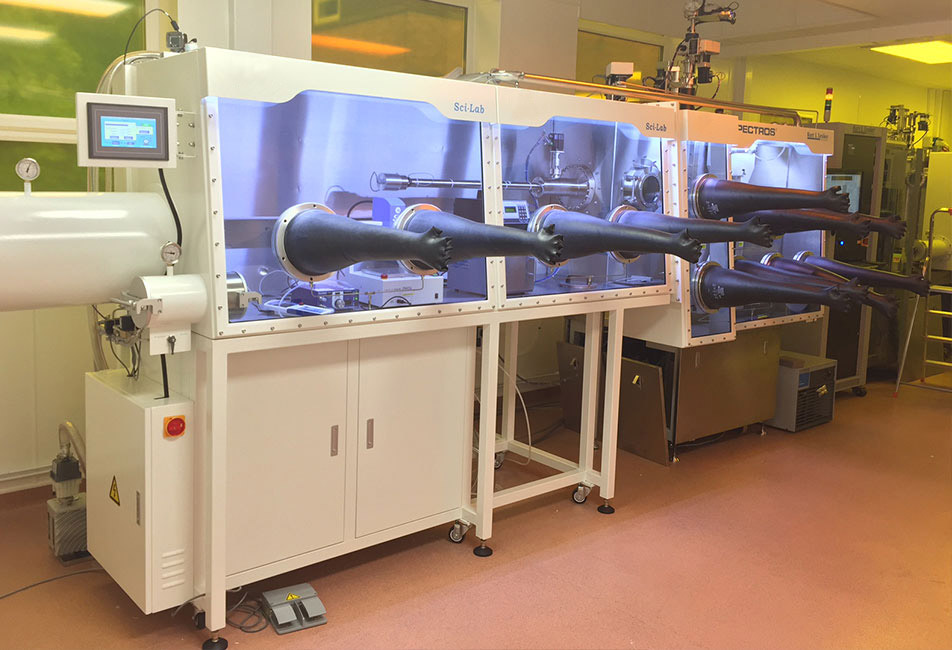 Kurt J Lesker understands that not all Perovskite research is conducted with dual-source vacuum evaporation and there are others methods currently ranging from a simple one-step spin-coating method to two-step sequential methods, vapour-assisted solution processing and single-source physical vapour deposition.
In all these cases the metal electrodes required for device manufacture are thermally evaporated are and Kurt J Lesker is here to help. Our metal thermal evaporators easily integrate with our high-end gloveboxes and are ideal to put down contact layers of Ag or Au for example. Furthermore our gloveboxes come with a suite of accessories to help you with your perovskite research ranging from whichever methodology you employ, ranging from:
Spin coaters - for solution processed perovskite layers
Microbalances - for accurate weighing of perovskite precursor material
Hot plates - for annealing surfaces
Plasma cleaning units - for low pressure plasma cleaning of substrates
Epoxy dispensing units - for even application of epoxy required for encapsulation
uV curing units - to harden epoxy after application
Vacuum ovens - for curing and drying processes
Our gloveboxes have the advantages versus the competition:
Patented sealing technology - with purification down to 0.01ppm O2/H2O
Lowest leak rate on the market - a decade better than the rest (0.001% vol/hr)
High purifier capacity - O2 up to 60 litres / H2O up to 2 kg meaning longer regeneration cycles
Large freezer capacity - 30 litres placed on the ground to minimize vibration
Most accurate analysers used - know exactly what atmosphere you have in the glovebox
Advanced control features as standard - including chemistry software, large touchscreen panel, auto leak rate testing, auto gas circulation, ante-chamber auto evacuation
Z-Factors
Empirical Determination of Z-Factor
Unfortunately, Z Factor and Shear Modulus are not readily available for many materials. In this case, the Z-Factor can also be determined empirically using the following method:
Deposit material until Crystal Life is near 50%, or near the end of life, whichever is sooner.
Place a new substrate adjacent to the used quartz sensor.
Set QCM Density to the calibrated value; Tooling to 100%
Zero thickness
Deposit approximately 1000 to 5000 A of material on the substrate.
Use a profilometer or interferometer to measure the actual substrate film thickness.
Adjust the Z Factor of the instrument until the correct thickness reading is shown.
Another alternative is to change crystals frequently and ignore the error. The graph below shows the % Error in Rate/Thickness from using the wrong Z Factor. For a crystal with 90% life, the error is negligible for even large errors in the programmed versus actual Z Factor.