Kurt J Lesker Company Enables...
Perovskite Research for
Photovoltaic Applications
© Photo Laurent Lacombe
Solar cells work by using materials that absorb photons from sunlight in a broad spectral range and in turn effectively convert this captured light into free charges that produce electricity. Modern solar cells are based on crystalline Silicon (c-Si) which is a cheap and abundant semiconductor, however the cost to produce electricity using them is relatively high as the efficiency rates of c-Si based cells are relatively low. As a result thin film solar cells have been developed to combat crystalline Silicon's inherent inefficiencies. Technologies such as CIGS, CdTE, amorphous Silicon and OPV have all strived to create solar cells that have high efficiencies coupled with good cell stability and low manufacturing costs.
However there is a new type of material that has the potential to revolutionize the field of photovoltaics: perovskite structure based materials. A perovskite structure is any material with the formula ABX3 and it is the new research centered on organometal halide perovskite structures that has recently generated a feel good factor in the solar energy world - and Kurt J Lesker Company has been at the center of the key research in driving this exciting technology forward.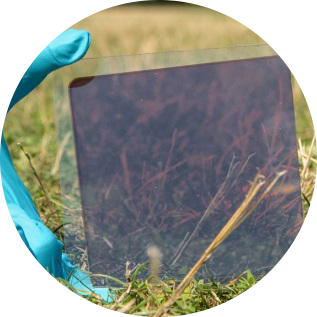 SO WHERE DID IT ALL START FOR KURT J LESKER
Take a look at the video below and see how we supported the world class scientists at the University of Oxford in the UK who subsequently conducted seminal research into vapour deposited metal halide perovskite devices, producing a paper that was published in Nature stating the advantages of vapour deposited perovskites versus solution processed variants.
"KJLC Vapour - deposited perovskite devices have significant advantages compared to solution processed variants."
All the work was conducted in a Kurt J Lesker thin film deposition tool. Read the paper at: www.nature.com.
Having been in the vacuum industry for decades with 1000s of deposition tools in the field, Kurt J Lesker has developed solutions to address the technical challenges associated with classic OLED and OPV technologies.Since the days of working with the University of Oxford with their pioneering work we have collaborated with many groups around the world, helping researchers achieve their goal of depositing precise perovskite thin film layers to create the optimal device architecture.
Videos:
Perovskites: The Emergence of a New Era for Low-Cost, High-Efficiency Solar Cells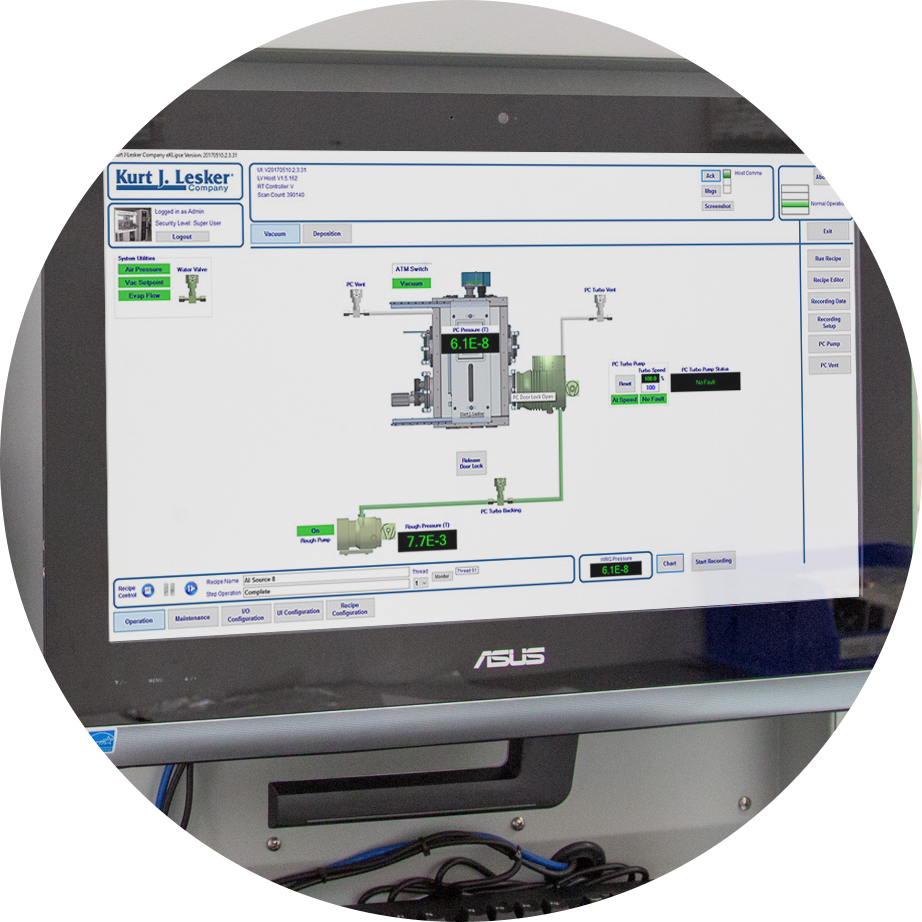 TECHNOLOGY
"Kurt J Lesker eKLipse&tade; software control platform allows the user to accurately control the rate and thickness of each film."
The ideal solar cell should have a high carrier mobility necessary for charge extraction coupled with a wide spectral absorption range. In the past it is has been difficult to get both facets using existing materials, however perovskite structures have been found to strike a workable balance between the two requirements. Furthermore researchers worldwide working with Kurt J Lesker Company tools have proven that vapour-deposited perovskite devices have significant advantages compared to solution processed variants.
At the heart of our tools is our unique Kurt J Lesker eKLipse software control platform that allows the user to accurately control the rate and thickness of each film. Designed 100% in-house the features of eKLipse are:
An easy to use graphical user interface for fast recipe building
An embedded real-time controller for ultimate reliability
Kurt J Lesker thermal evaporation PID hardware for optimum temperature and rate stability, essential especially for controlled co-deposition
Easy to export & import unlimited recipes for maximum flexibility
Multi-user access levels for security of your important research
Simultaneous data plotting for accurate experimental logging
Ability to customize counters for any component to establish precise maintenance scheduling
Remote support functionality for instant diagnosis by trained Kurt J Lesker technicians to help trouble-shooting
Ability to send emails and Twitter notifications of the system and process status keeping the researcher up to date on their research, wherever they are
Our scientists and engineers have used our extensive in-house experience to develop solutions that overcome the challenges with putting down thin films of perovskite material in vacuum. Some of our unique hardware features are:
Kurt J Lesker Low Temperature Evaporation (LTE) sources featuring a plug-in base for easy swap-out - ideal for low melting perovskite compounds in the 50°C to 500°C range
Kurt J Lesker metal deposition sources for charge-transport materials such as Ag, Au, Al, etc.
Custom pumping protection & shielding to avoid build-up of perovskite material and possible failure
Optimized process chamber geometries for best film uniformity (e.g. +/-4% across a 100mm x 100mm substrate)
Custom PID control loops for precise control of perovskite precursors in the gas phase (rate control down to 0.01A/s)
Accurate thin film thickness control to enable perfect device architecture (to +/- 0.1nm)
Best in class hardware for ultimate reliability and serviceability
Customizable baseplates for easy upgrades such as the addition of extra deposition sources
Unique glovebox technology enabling <0.1ppm ensuring ultimate protection of perovskite coatings
Kurt J Lesker understands that not all Perovskite research is conducted with dual-source vacuum evaporation and there are others methods currently ranging from a simple one-step spin-coating method to two-step sequential methods, vapour-assisted solution processing and single-source physical vapour deposition. Kurt J Lesker has gloveboxes and equipment that can help your research.
Check out Polymer & Solution Processed Perovskites for more details.
WHY US

COME TALK TO US - we have an experienced team of scientists, engineers and designer dedicated to helping you solve your problems, however large or small. With a global reach we can help you and we look forward to helping you

We have simulated uniformities using state of the art simulation tools that we have optimized. Talk to us so we can help you design the best system for your application

Being world leaders in vacuum deposited perovskite systems and having thousands of PVD systems installed globally we have a wealth of information at our fingertips and invaluable experience that can help you

Our VacTran software facilitates the execution of laborious vacuum calculations, enabling rapid characterization and evaluation of vacuum system operational data and design alternatives

With PhD scientists and applications lab support we can help you optimise your process. Come visit us, play with our tools and see how we can help you

Ask us a question. We have repository of technical information - and if we don't know the answer straight away then we'll find out for you
PIONEERING RESEARCHERS WHO HAVE OUR SYSTEMS

"I chose a Mini SPECTROS™ Perovskite tool over other systems due to my satisfaction with experiences of using a Lesker Lab 18 sputtering system. Both of the two systems are effective and reliable, which greatly help us achieve our research goals. Moreover, the customer service and support offered by Kurt J Lesker are attentive, capable and friendly. I will continue to recommend them to my friends and colleagues and place them at the top of my list of suppliers"
Qian Huang
Associate Professor, State Key Laboratory of Elemento-organic Chemistry

"The perovskite deposition system that was delivered by Kurt J Lesker is of a very high quality and is the ideal tool to down precise layers of perovskite layers in a very controlled manner. If you need to work with vapour deposited perovskites for next generation PV then the Lesker tool is the one for you"
Karl Wienands
Professor for PV Energy Conversion, Solar Cells Division; Development and Characterization

"The Mini SPECTROS™ has proven to be the ideal tool for rapidly proving out the feasibility of vapour deposited perovskite solar cells, the combination of organic and metal sources offers great versatility for investigating new materials with a broad range of deposition temperatures. The prompt and friendly service offered by Lesker has also helped us to get the most out of this tool."
Henry Snaith
Professor of Physics, Clarendon Labs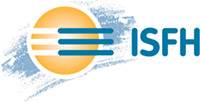 PEROVSKITE SYSTEM OFFERING
Whether you want to put down simple films for material characterisation or develop complete metal halide devices, Kurt J Lesker can help. Choose from one of our standard system options below or talk to us more about a custom configuration for your process. We can provide the solutions. We have the experience and we look forward to hearing from you.
We have a range of systems that can accommodate square substrates from 100mm x 100mm up to 200mm x 200mm or standard wafers up to 8" OD. For small R&D substrates we can provide a custom array sample holder that allows for the mounting of multiple substrates in a single process. Choose from the following or contact us for custom options:
CHOOSE
YOUR
SYSTEM

Substrate Size (maximum)
150mm diameter or 100mm x 100mm square
150mm diameter or 100mm x 100mm square
200mm diameter or 150mm x 150mm square
250mm diameter or 200mm x 200mm square
System Control
eKLipse software control platform with PC-based HMI
eKLipse software control platform with PC-based HMI
eKLipse software control platform with PC-based HMI
eKLipse software control platform with PC-based HMI
Thermal Heater Sources (max)
4
4
3
4
Low Temperature Evaporator
4
4
10
12
Electron Beam Sources
N/A
N/A
1
1
Deposition Material Pellet Feeder
N/A
N/A
N/A
1
Substrate Heating
RT to 350°C
RT to 350°C
RT to 350°C
RT to 350°C
Substrate Cooling
Yes
neg 10 to 80°C
N/A
N/A
Single or Dual Wedge Tool
N/A
N/A
1
1
Chamber
Cylindrical Chamber, 304S, 15.13" (384.302mm) ø ID x 16.25" (412.75mm) Overall Length (OAL)
Box chamber. 304SS. 14" wide x 14" deep x 24" high (355mm x 355mm x 610mm)
Box chamber. 304SS. 18" wide x 18" deep x 37" high (457mm x 457mm x 940mm)
Box chamber. 304SS. 14" wide x 14" deep x 24" high (610mm x 610mm x 1016mm)
Chamber Doors
Spring-loaded, pendulum style, full-access, aluminum front door
304SS sliding front door & Aluminium hinged rear door
304SS sliding front door & Aluminium hinged rear door
304SS sliding front door & Aluminium hinged rear door - optional sliding rear door
Load Lock
N/A
N/A
1
1
Glovebox
Two or four port glovebox
Two or four port glovebox
Two or four port glovebox
Two or four port glovebox
Process Chamber Pump
300 l/s Turbo
800 l/s Turbo
800 l/s Turbo or 1500 l/s Cryo
800 l/s Turbo or 1500 l/s Cryo
Backing Pump
10 m3/h Scroll
10 m3/h Scroll
10 m3/h Scroll
35 m3/h Scroll
Process Chamber Base Pressure
Configuration Dependant
1.5E-7 Torr
3.8E-7 Torr
5.0E-7 Torr
Perovskite Pump Protection
Option Available
Yes
Yes
Yes
Glovebox Purity Level
<0.1ppm
<0.1ppm
<0.1ppm
<0.1ppm
Would You Like More Information?
Do you have any questions? Click below to get in contact with one of our many experienced team members.
CONTACT US TODAY