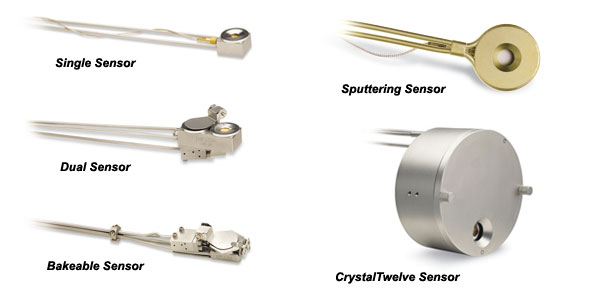 All of the following crystal sensors are compatible with all INFICON quartz crystal controllers, except where noted. One or more of these sensors should be purchased with each controller. Each sensor comes completely assembled and includes integral water tubes, in-vacuum coaxial cable (Front Load) or in-vacuum conduit (Cool Drawer), water tube bending tool, crystal snatcher (Front Load), and operating instructions. All air and water tubes (except the bakeable sensor) are 1/8 inch (0.32cm) O.D. All shuttered sensors require the 750-420-G1 pneumatic control valve. Xtal 2 Switch is designed for use only with the XTC/3 and Cygnus Thin Film Deposition Controllers. Limited use with other controllers is possible call KJLC or click here with any technical questions.
NOTE:
Orders for sensors welded to feedthroughs cannot be entered without signed-off dimensional drawing (KJLC to provide). Once special length or manufactured order is confirmed, it can not be canceled.
Sensor lengths are measured from center of the crystal to the vacuum side (sealing surface) of the feedthrough.
For sensors ordered without a weld connection (option "0" or "8"), tubes are made to a length of 29.75" (756mm) for "E" length and Cool Drawer sensors and 44.75" (1137mm) for "G" length sensors.
Specifications Table
Sensor Type
Applications & Description
Product Page
Front Load Single Sensor
Thermal evaporations & RF/DC magnetron sputtering
more info
Front Load Dual Sensor
Two independent crystals in one sensor with integral shutter
Requires two active sensors circuits
more info
Front Load Sputtering Sensors
RF or DC diode sputtering or thermal depositions
more info
Front Load Bakeable Sensors
Thermal evaporations in UHV chambers, bakeable to 450°C
Includes 2 3/4" CF feedthrough
more info
CrystalTwelve Sensors
12 crystals contained in one sensor
Provides continuity for long processes by automatically rotating to a back up crystal should a crystal failure occur
more info
Contact us by clicking here for more information, including pricing and options, and to discuss your specific process application requirements.