---
EPS Series - Substrate Preparation Stage
Substrate parallel to plane of mounting flange
Overview
2" or 4" substrates
Substrate heating to 800°C
Substrate rotation to 60rpm
50mm height adjustment
Manual and motorized actuation
The EPS series of in-line preparation stages support the substrate parallel to the mounting flange. The stationary EPS heating module provides durable and uniform heating of 2" or 4" substrates to 800°C with Molybdenum heat shields provided to minimize heat loss. A Type K thermocouple is provided as standard.
Manual or motorized substrate rotation to 60rpm is provided by the magnetically-coupled MagiDrive rotary drives. Eliminating unnecessary bellows and dynamic seals from the EPS ensures true UHV performance and increases reliability.
In addition to substrate rotation, the 50mm height adjustment option allows the substrate position to be optimized via manual or motorized actuation. The EPS series of preparation stages provide cost-effective and durable sample preparation capability. For higher temperature heating, DC/RF biasing or additional capabilities see the EC-I series.
Series Options
Heating to 800°C
Substrate rotation option (motorised)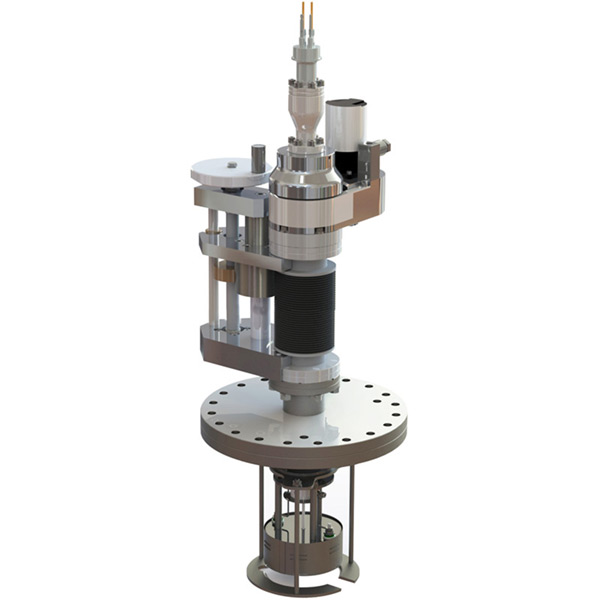 Heating to 800°C
Substrate rotation (motorised)
50mm height adjustment option (manual)
Stage Configuration: EPS Series
STANDARD CONFIGURATION
Substrate Size
50mm (2")
100mm (4")
Mounting Flange Size
CF150/8" OD system flange
CF200/10" OD system flange
Substrate Heating
800°C
Heater Element
Refractory metal module with Silicon Carbide Coated Graphite (SiCg) heating element
Flange to Cradle Distance
200mm
Height adjustment (option)
50mm
Fixed height shutter (option)
Includes extended bearing housing for 4" substrates
Thermocouple
Type K
EpiCentre Power Supplies & Controllers
EpiCentre Controllers and Power Supplies
The EpiCentre range can be configured to allow the use of existing motor, temperature controller and heater power supplies. Where new equipment is required we offer complete solutions from a series of high quality, modular, control packages.
Substrate Rotation
EpiCentre stages with wafer sample rotation may be fitted with DC or stepper motors. The DC option is preferred for smooth, continuous rotation, however, if indexing or positioning of the substrate is required then a stepper motor should be selected.
Stepper Motors
The Programmable Stepper Motor Control Center (SMC series) provides a complete solution to substrate rotation. Supplied with its own WindowsTM based software, the interface is intuitive while providing a comprehensive array of control options. It may also be linked to an existing host controller via various inputs and outputs.
DC Motors
If DC motors are selected for the EpiCentre substrate spin system, then the rotation controller may be used. This unit is a 24VDC power supply providing speed control. A rear panel connector allows remote operation from a 0-10 volt programming signal. The unit is housed in a half rack, 3U enclosure and complies with CE regulations.
Axial Translation
For motorization of the various axial translations offered it is recommended that the customer uses either the Programmable Stepper Motor Control Center or the hand-held DC controller.
Temperature Controllers
For optimal stage heating and substrate temperature control the TC1 power supply with 3–term proportional temperature control is offered. The unit comprises a Eurotherm PID (Proportional, Integral and Derivative) temperature controller driving a Glassman high performance programmable DC power supply of suitable voltage / current rating to match the heater requirement.
The Glassman unit offers reliable, low-noise operation, resulting in low element stress and minimal EMC interference when performing RHEED measurements.
The TC1 is CE compliant and can be supplied with a range of features.