Configurable analytical stages offering up to 5 axes of motion and options for sample biasing, heating to 1200°C and cooling to <30K. MultiCentres can be configured to accept most common surface analysis sample holders including pucks, flags and ESCA stubs.
The MultiCentre and associated accessories provide a complete solution for sample transfer and manipulation. Typical applications include analytical instrumentation for surface analysis equipment and synchrotron end stations.
The MultiCentre range includes the XL-T Series which provides compact single bellows stages and the XL-R series which utilises dual bellows with dual-point support to provide increased stability and precision.
Each series offers a full range of options including resistive or e-beam heating, temperature measurement, sample biasing/current measurement and LN2 and LHe cooling options. MultiCentres are unique in their ability to provide continuous azimuthal rotation and temperature measurement even when cooling with LN2 and heating to 1200°C.
Multicentre Key Advantages
Compact and high stability, high precision stages
Modular stage design allows functionality to be configured to suit application
Innovative sample stage with ultra compact swept volume and unique range of additional stage options
Heating to 1200°C & cooling to <30K (with LN2 precooling to reduce LHe consumption and costs)
Unique ability to provide continuous azimuthal rotation and LN2 cooling
Flag, puck and ESCA sample compatible stages
Future-Proofed Modular Design
The innovative MultiCentre range can be configured to match your application requirements. Should your requirements change in the future, the MultiCentre can be upgraded to include additional functionality.
For example, the unique uncluttered stage design provides space to include additional sample parking stages.
This ability to add additional functionality when required provides an economic route to future proofing your purchase, ensuring that the MultiCentre will remain at the forefront of surface science applications.
Configure To Suit Your Application
The modular XL-T and XL-R series of MultiCentres can be configured to meet your requirements.
Choose 4-axis for polar rotation only, and 5-axis if azimuthal rotation is also required. In addition, heating and cooling can also be specified. If sample heating is required, resistive heating to 900°C and e-beam heating to 1200°C options are available.
If sample cooling is required, LN2 cooling to <-150°C and LHe to <30K options can be included.
Stage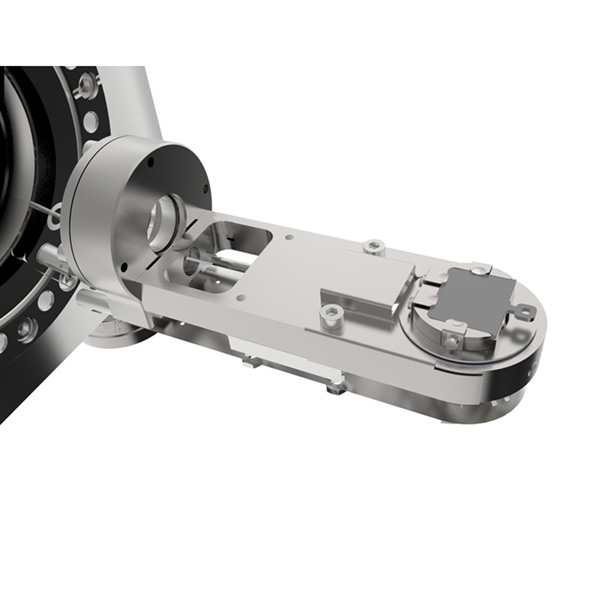 4-Axis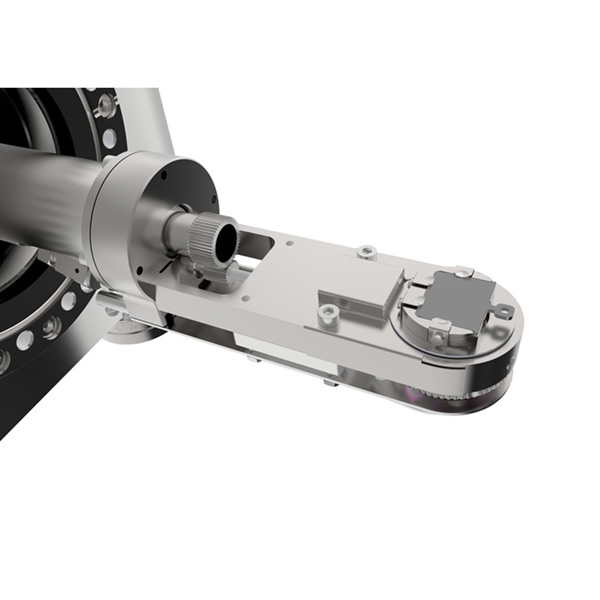 5-Axis
Heater Module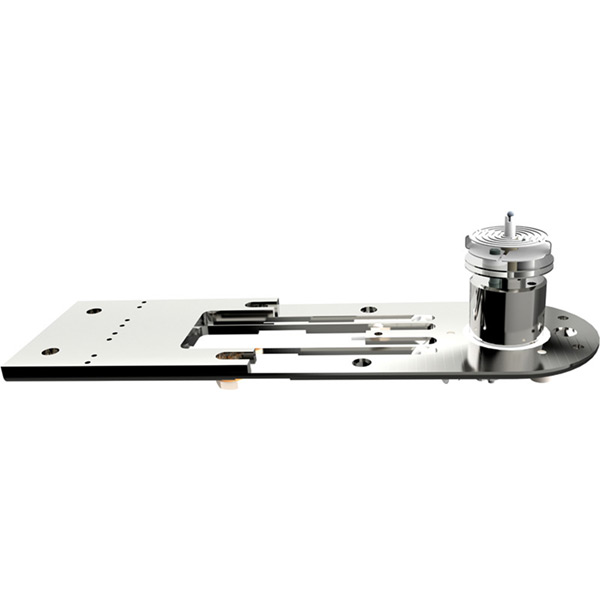 Resistive Heating to 900°C
Robust self-supporting Ta foil heater, for minimum outgassing and large ratio of heated to open surface area ensuring heater longevity. The filament is also Yttria coated to provide additional robustness in oxidising atmospheres and for protection in the event of an accidental vent. Note: heating limited to 600°C with LHe option.
E-beam Heating to 1200°C
For higher temperature requirements the e-beam heating option achieves sample temperatures up to 1200°C. To upgrade to e-beam heating simply requires a change of power supply unit.
Cooling Options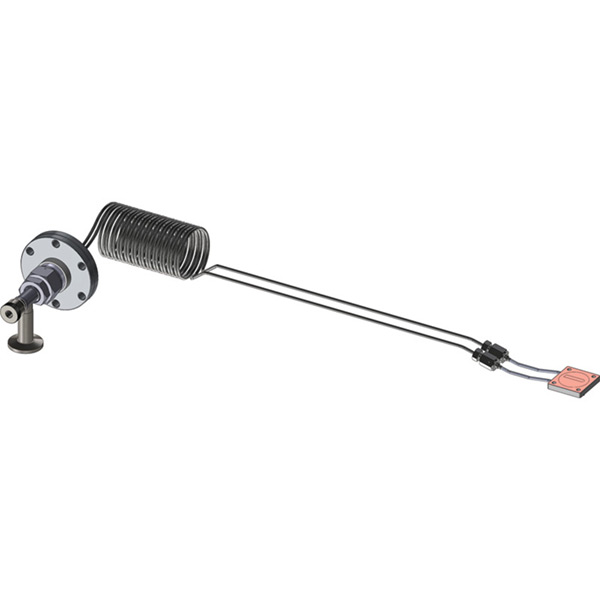 LN2 Cooling to <-150°C
Innovative LN2 cooling module provides sample cooling down to <-150°C with continuous azimuthal rotation and temperature measurement. Typically the LN2 cooling can achieve sample temperatures to <-170°C.
The LN2 circuit is routed through the hollow shaft with the coils inside the service collar to minimise the swept volume of the stage head.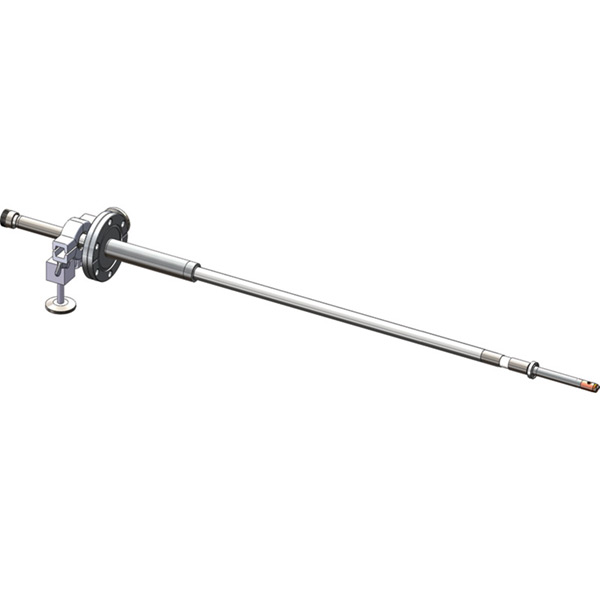 LHe Cooling to <30K
Based on UHV Design's own continuous flow cryostat, cryogenic temperatures below 30K can be achieved in less than one hour.
Example Configurations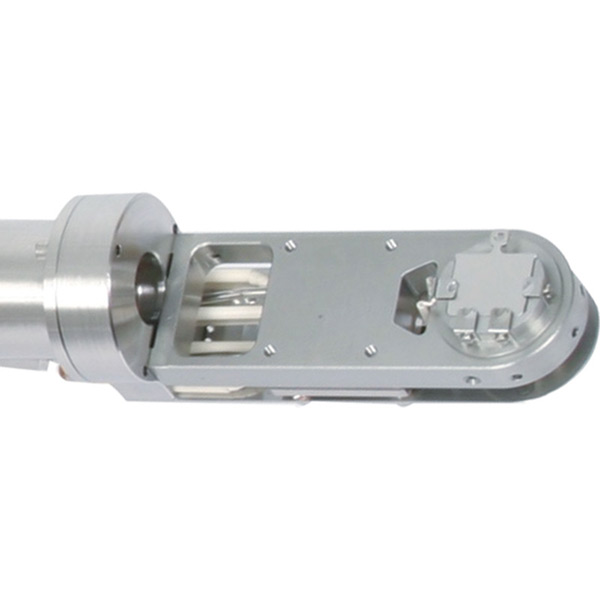 4-Axis Heat & LN2 cooling
Heating to 1200°C with cooling to <-150°C (123K)
5-Axis Heat & LN2 cooling
Heating to 1200°C with cooling to <-150°C (123K)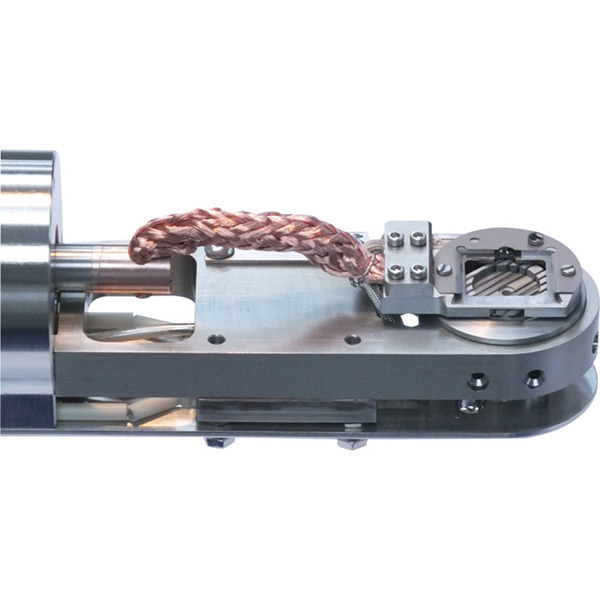 5-Axis Heat & LHe cooling
Heating to 600°C with cooling to <-243°C (<30K)
Compatible sample handling throughout all experimental modules is essential to maintain full system integration. UHV Design offers a range of Industry-standard Transfer Solutions which includes Flag-style, Puck-style and ESCA Stub options, all three of which can be fitted to either wobble sticks or PowerProbes.
Puck-Style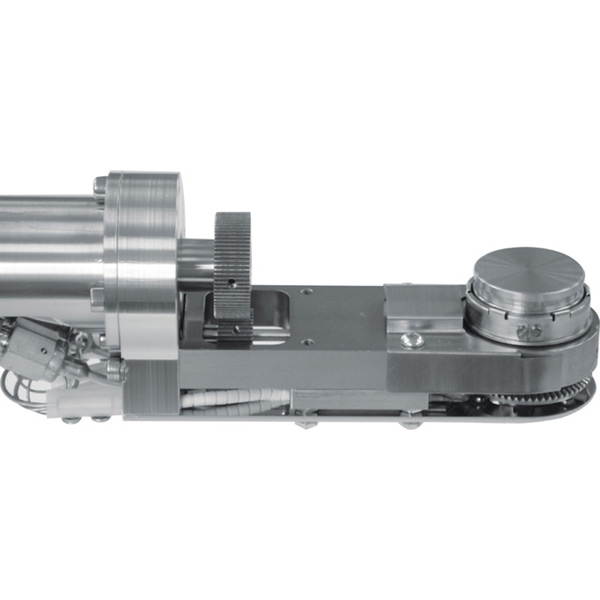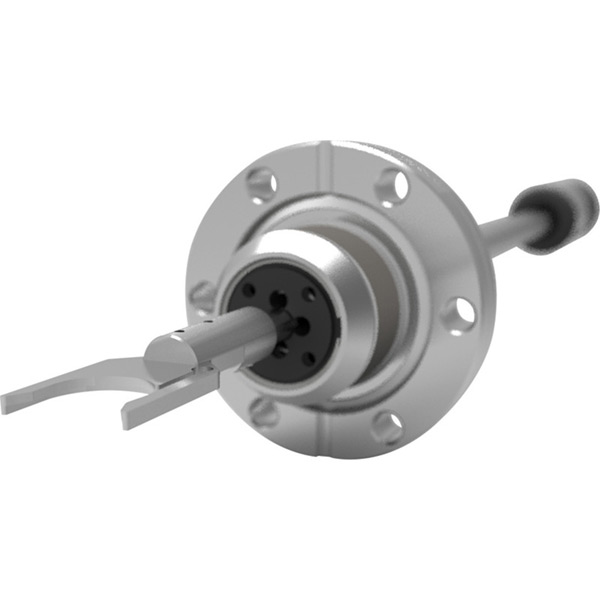 Puck-style gripper available with Wobblestick or PowerProbe.
Flag-Style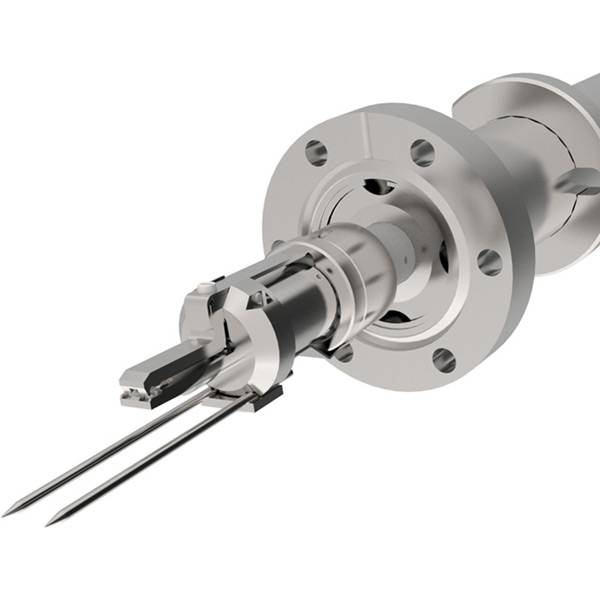 PowerProbe version incorporates guide pins to automatically lower and raise thermocouple during transfer.
Flag-style gripper available with Wobblestick or PP PowerProbe. For Wobblestick sample transfer there is an option to include a toggle switch (b) on the stage to raise and lower the thermocouple before and after sample transfer.
ESCA Stub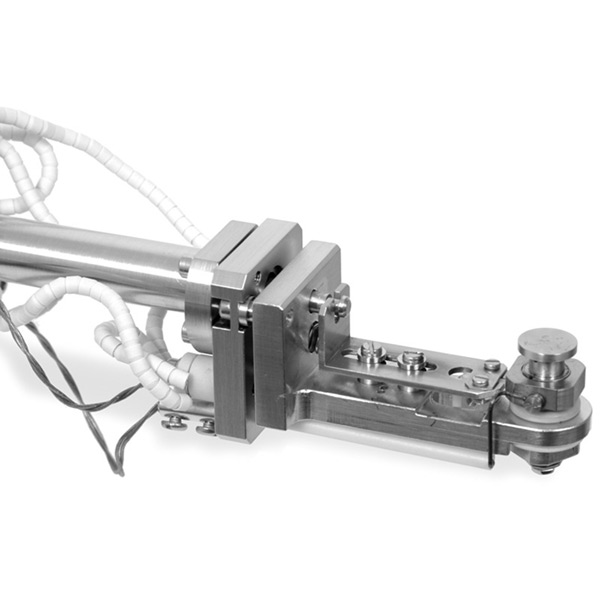 ESCA stub gripper only available on Wobblestick.
In addition to the small swept volume and generally uncluttered design, the flat area of the platform adjacent to the sample plate itself can be utilised for additional modules if required. Some examples of our innovative parking stages are shown below.
Single flag-style parking position for 5-axis stage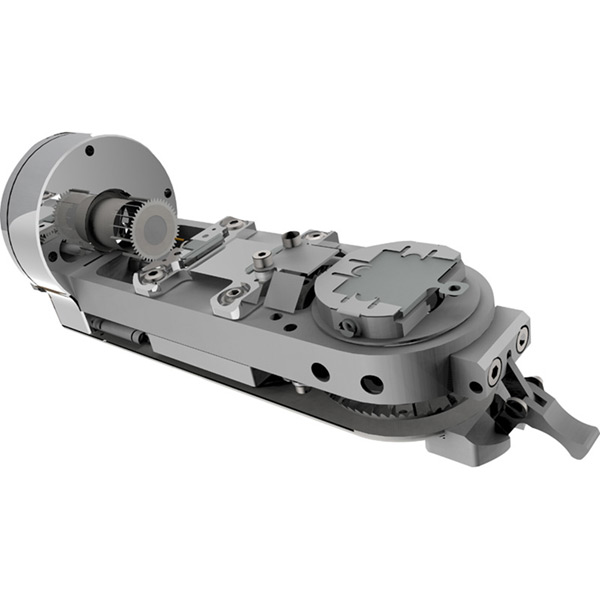 5-axis flag-style heat / cool stage with the following additional features:
Single flag-style sample parking position which can loaded from either side by a wobble stick, is electrically floating for biasing and sample current measurement, and can be cooled.
Toggle mechanism which can be operated by a wobble stick to disengage the thermocouple from the back of the sample plate. Normally this functionality is accomplished by the forks on the magnetic transfer arm which engage in the end of the manipulator and disengage the thermocouple in the process.
Two level parking positions for 4-axis stage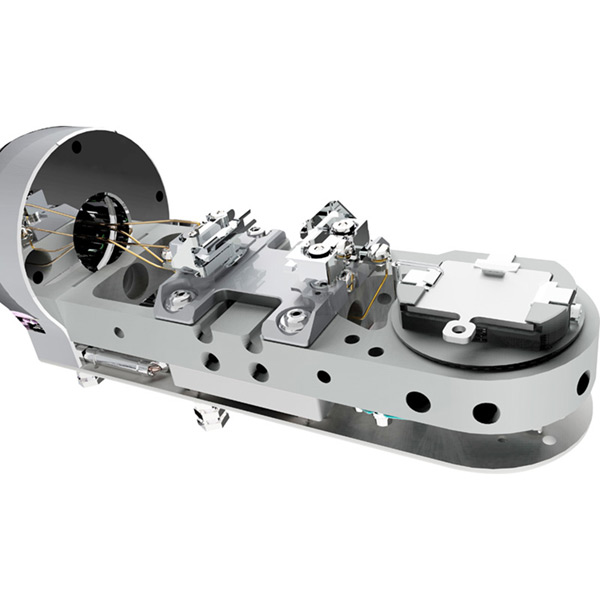 4-axis flag-style heat / cool stage with a 2 level parking stage, both electrically floating and coolable into which can be loaded from either side:
2 standard flag samples, or
two direct current heating flag samples, or
a mixture thereof
a special flag-style sample plate with a QMB (Quartz Microbalance) FTM (Film Thickness Monitor) mounted on it, or
a special flag-style sample plate with an e-beam heater module which when loaded into the lower position can be used to heat a standard flag-style sample in the upper level to 1200°C
Flag mounted STM tip holder parking stage for 5-axis stage
5-axis flag-style heat / cool stage showing a custom parking position for the conditioning of flag mounted STM tips
Large flag-style parking position for 4-axis stage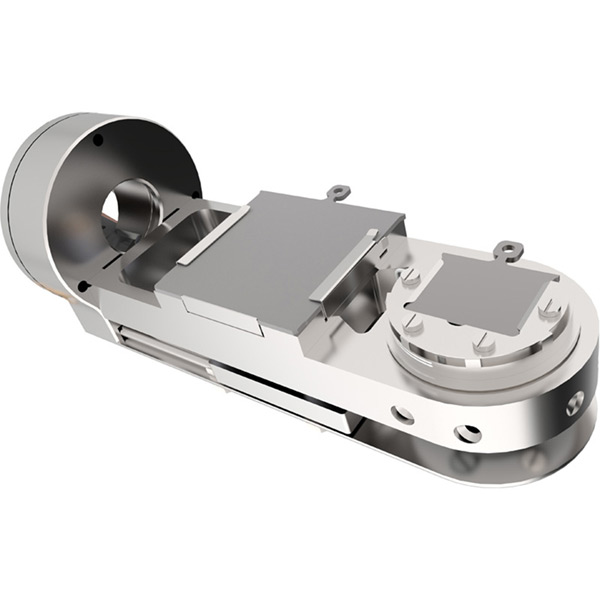 4-axis flag-style heat / cool stage - showing an additional parking position for a large (30x30mm) flag-style sample plate, which is also electrically isolated for biasing and sample current measurement, and can be cooled