Advantages
Single bellows 3, 4 or 5 axes
+/- 12.5 XY Motion
50-250mm Z Motion
Puck, Flag or ESCA sample handling
E-beam heating, LN2 cooling plus biasing options
Continuous azimuthal rotation & LN2 cooling
Overview
The XL-T series is an entry level single bellows compact stage, offering a full range of functions. Based on the proven design of the XYZT MultiMotion series manipulator, its rugged construction and smaller platform is ideal for surface science chambers where space is at a premium.
The large 65mm ID bellows bore allows for all services, including LN2 cooling coils, to be routed at the top of the stage resulting in a very uncluttered, compact design at the sample stage, significantly reducing the swept radius.
A unique feature is the continuous azimuthal rotation even when cooling with LN2. This is achieved via a proprietary design which not only acts as a bearing for rotation, but provides electrical isolation of the sample.
Specification Table
Model
Puck-Style
Flag-Style
ESCA Stub
Mounting flange
CF64 114mm (4.5") OD CF or CF100 152mm (6") OD CF
X-Y travel
+/- 12.5mm
Z travel
50, 100, 150 and 250mm
Polar rotation
+/- 180°
Azimuthal rotation
Continuous with LN2 cooling
N/A
Maximum sample size
25mm diameter
15mm x 18mm
14mm diameter
Resistive heating
> 900°C
> 900°C
> 900°C
e-beam heating
> 1200°C
> 1200°C
N/A
LN2 cooling
< -150°C (<-170°C typically achievable)
(< -150°C with continuous azimuthal rotation)
< -140°C
Sample current measurement
Isolation > +/- 1000 V Resistance > 500 MOhm
Charts
Example Flag Sample Transfer Using Wobble Stick
Example Flag Sample Transfer Using Power Probe
Choice of resistive and e-beam heating options
Both the XL-T and XL-R range of multicentres can provide resistive sample heating to 900°C or e-beam sample heating to 1,200°C (typical values).
Resistive heating to 900°C
Robust self-supporting Ta foil heater, for minimum outgassing and large ratio of heated to open surface area ensuring heater longevity. The filament is also Yttria coated to provide additional robustness in oxidising atmospheres and for protection in the event of an accidental vent. Note: heating limited to 600°C with LHe option.
E-beam heating to 1,200°C
For higher temperature requirements the e-beam heating option achieves sample temperatures up to 1200°C. To upgrade to e-beam heating simply requires a change of power supply unit.

MultiCentre heater power supply
MultiCentre radiative heating power supply
Universal voltage 90-240 V power supply with integrated Eurotherm temperature control for optimal control of sample temperature using resistive heating. Key features include:
Compact 2 U rack mount
Uses industry-standard Eurotherm temperature controller (32h8)
Suitable for K, E & N type thermocouples
Manual or automatic (PID) control
Remote sense functionality of heater current & voltage
MultiCentre radiative with e-beam heating power supply
Universal voltage 90-240 V power supply providing regulated filament power, and the ability to 'float' either the filament (cathode) negative, or the sample (anode) to achieve high temperature electron beam heating of samples. Key features include:
Radiant and e-Beam Heating, highly efficient 1500W 3U unit
Wide range of temperature sensors, thermocouples
Wide measurement range (1.4-2470K) with manual or PID control of temperature or ramp rate
Remote control by RS232, Bluetooth and Ethernet - Web enabled
Comprehensive, intuitive touch screen GUI
Choice of LN2 and LHe cooling options
Both the XL-T and XL-R range of multicentres can provide LN2 sample cooling to -170°C or LHe sample cooling to 30K (-243°C) (typical values).
LN2 cooling to -170°C
Innovative LN2 cooling module provides sample cooling down to <-150°C with continuous azimuthal rotation and temperature measurement. Typically the LN2 cooling can achieve sample temperatures to <-170°C. The LN2 circuit is routed through the hollow shaft with the coils inside the service collar to minimize the swept volume of the stage head.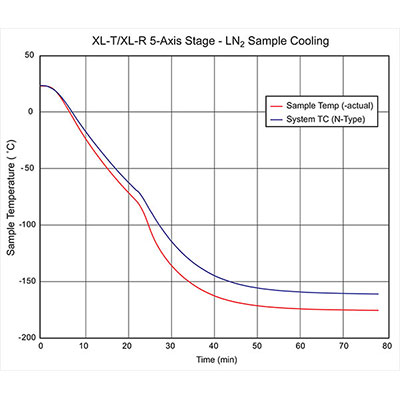 LHe cooling to 30K (-243°C)
Based on UHV Design's own continuous flow cryostat, cryogenic temperatures below 30K can be achieved in less than one hour.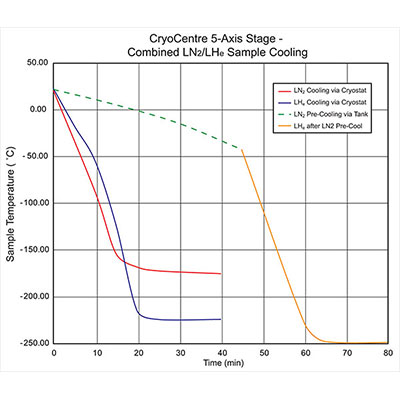 LN2 Dewar
Strong, lightweight LN2 storage dewars available in 5L, 10L , 15L, 25L and 35L capacity.
LN2 Transfer Line
Low thermal mass LN2 transfer line designed specifically for the MultiCentre range to minimise stage cooling times at low LN2 flow rates. Key features include:
5m inlet line to connect to dry LN2 supply line
Pressure gauge with 2 safety pressure valves, inlet pressure regulator to control flow
Insulated low thermal mass cryogen transfer line with coupling to fit MulitCentre stage
Advanced stage optionss
Thanks to the unique uncluttered design of the stage it is possible to add the following advanced stage options:
Single flag-style parking position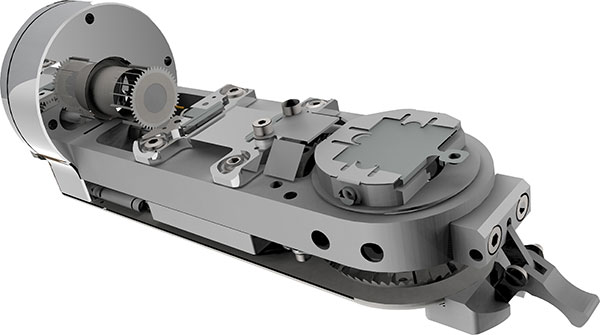 5-axis flag-style heat / cool stage with the following additional features:
Single flag-style sample parking position which can loaded from either side by a wobble stick, is electrically floating for biasing and sample current measurement, and can be cooled.
Toggle mechanism which can be operated by a wobble stick to disengage the thermocouple from the back of the sample plate. Normally this functionality is accomplished by the forks on the magnetic transfer arm which engage in the end of the manipulator and disengage the thermocouple in the process.
Two level parking positions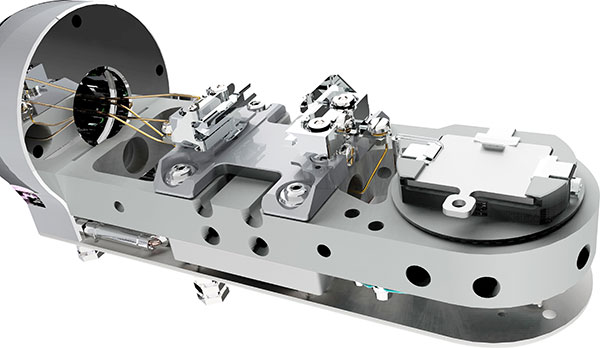 4-axis flag-style heat / cool stage with a 2 level parking stage, both electrically floating and coolable into which can be loaded from either side:
2 standard flag samples, or
two direct current heating flag samples, or
a mixture thereof
a special flag-style sample plate with a QMB (Quartz Microbalance) FTM (Film Thickness Monitor) mounted on it, or
a special flag-style sample plate with an e-beam heater module which when loaded into the lower position can be used to heat a standard flag-style sample in the upper level to 1200°C
Flag mounted STM tip holder parking stage
5-axis flag-style heat / cool stage showing a custom parking position for the conditioning of flag mounted STM tips