WS range provides combined tilt, linear and rotary motion.
The wobble stick is one of the simplest manipulation tools available, translating hand movements, with defined freedom, through a vacuum enclosure. The wobble stick series has been newly redesigned to increase the effective tilt of this unit. This wobble stick continues to utilize UHV Design's magnetically coupled technology for linear, rotary, and gripper movements.
Design Concept
The Wobble Stick is a modular concept. The basic design provides lateral/tilt movement through a robust edgewelded bellows adaptor with linear push/pull motion and rotation through a powerful magnetic coupling. The newly redesigned Wobblestick has an upgraded tilt of +/- 22°.
Magnetic Coupling
The UHV Design wobble stick is a slim line modular concept benefiting from UHV Design's high power magnetic coupling technology. The coupling eliminates the need for long edge-welded bellows stacks for linear movement, typically employed with conventional wobble stick designs. Because of this, the UHVD wobble stick is not subject to the thrust due to vacuum, resulting in smooth, free-moving operation.
Sample Holder End Effectors
This design offers simple end effectors for sample stub handling without gripper actuation action. This unit has In-line end effector options for flag, puck and the ESCA stub as displayed on the above Features tab.
Wobble Stick end effector options:
WS40-X-H
(No End Effector)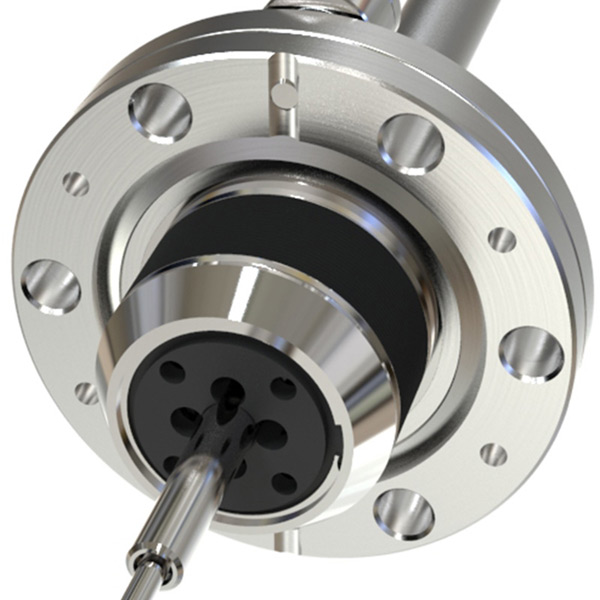 WS40-X-P
(Puck Style)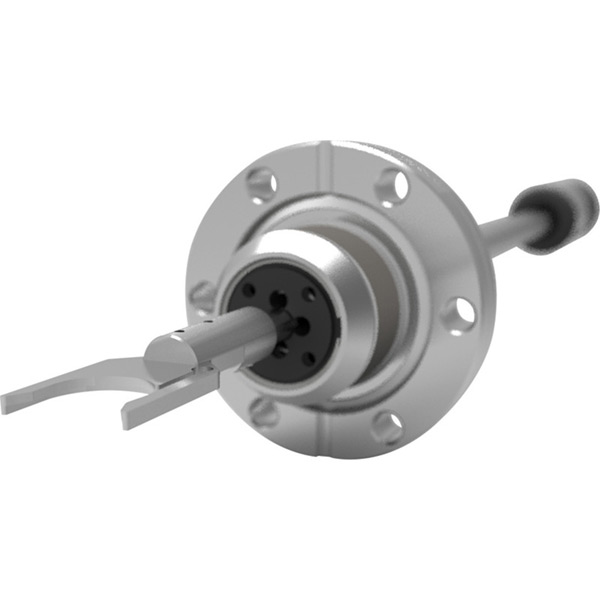 WS40-X-E
(ESCA Style)
WS40-X-FT
(Flag Toggle Style)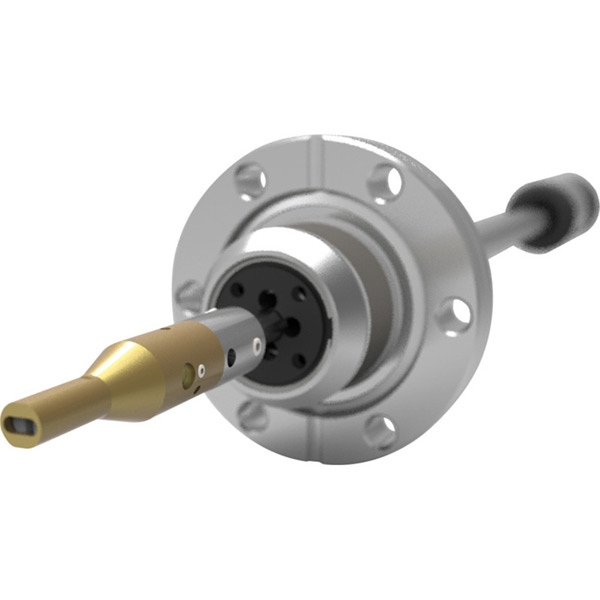 Actuation Options
Travel
100 - 100mm (4" travel)

150 - 150mm (6" travel)

200 - 200mm (8" travel)

250 - 250mm (10" travel)

300 - 300mm (12" travel)

350 - 350mm (14" travel)
Actuation
Manual Thimble
Specifications Table
End Effector Type
No End Effector
Puck Style
ESCA Stub Style
Flag Toggle
Effector Codes
H
In-line: PI
Right Angle: PR
In-line: EI
Right Angle: ER
FT
Linear Travel
100 mm to 350 mm (available in 50 mm increments)
Mounting
2-3/4" (DN40) CF Flange
Bakeout
250°C
Break-away Linear Thrust
40 N
Beak-away Rotary Torque
0.4Nm
Max. Axial Load
25N
Tilt
±22°
Rotation
Continuous
Ordering Table
| | Description | Flange Size | Stroke Length | End Effecter | Part Number | Price | In Stock | Add To Cart |
| --- | --- | --- | --- | --- | --- | --- | --- | --- |
| | Description | Flange Size | Stroke Length | End Effecter | Part Number | Price | In Stock | Add To Cart |
| | MAGNETICALLY COUPLED WOBBLE STICK ON A CF40 (2-3/4" OD CF) MOUNTING FLANGE. PROVIDING 150MM LINEAR MOTION, CONTINUOUS ROTARY MOTION AND +/-22 DEGREES OF TILT. COMPLETE WITH HOOK TUBE SUPPORT. BAKEABLE TO 250 DEGREES CELSIUS. | DN38CF (2.75" OD) | 150mm | None | WS40-150-H | P.O.R. | | |
| | MAGNETICALLY COUPLED WOBBLE STICK ON A CF40 (2-3/4" OD CF) MOUNTING FLANGE. PROVIDING 250MM LINEAR MOTION, CONTINUOUS ROTARY MOTION AND +/-22 DEGREES OF TILT. COMPLETE WITH HOOK TUBE SUPPORT. BAKEABLE TO 250 DEGREES CELSIUS. | DN38CF (2.75" OD) | 250mm | None | WS40-250-H | P.O.R. | | |