Features:
Lubricant-free within the vacuum envelope and hermetically sealed means a totally clean and dry vacuum to prevent cross contamination.
Advanced scroll-form and tip-seal technologies deliver best in-class vacuum performance and unrivaled ultimate vacuum levels.
Unique tip seal design significantly reduces wear to minimize maintenance and extend service life.
Quiet operation with typical noise during operation < 52 dB(A) for minimal environmental impact.
Advanced interface providing a variety of traditional and analogue and digital control methods enabling remote control/monitoring via RS232 or RS485.
Integrated inverter drive with auto sensing input delivers optimized pumping performance globally.
Models Features:
nXDS-C has been modified so that it is more suitable for use on vapour handling processes and may be used in some applications involving corrosive substances. This chemically resistant version is fitted with Chemraz® internal valves and stainless steel fittings.
nXDS-R Version has the gas ballast blanked off so it cannot be accidentally opened. This is useful for applications such as rare gas recirculation or gas recovery.
XDS35iE(C/R)

Equipped with patented technology that prevents over-compression within the scroll mechanism at high operational pressure and large throughput applications.
Twin by-pass valves release sufficiently compressed gas directly to the pump exhaust, increasing efficiency, lowering power consumption and enhancing pumping speed.
Valve operation occurs at inlet pressures greater than 300 mbar, making this pump tailored to applications that dwell at higher pressures.
The elimination of over-compression at high operational pressure, reduces power consumption and diminishes bearing loads, extending bearing live.
Applications:
Backing turbomolecular pumps
Chamber evacuation
Chemical applications including gel dryers and solvent recovery
Electron microscopy
High energy physics
Mass spectrometry
Videos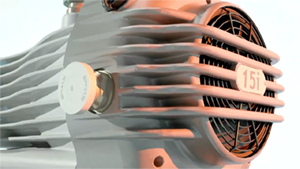 Edwards nXDS - the great new shape of dry vacuum pumping
The nXDS is up to 20 times quieter than other pumps. Its intelligent control functions and up to five year service interval offer low cost of ownership, making it the small dry pump of choice for today's most advanced technologies.
Runtime: 1:09
Specifications Tables
Ordering Table
| | Pump Model | Inlet Flange | Voltage & Phases | Manual | Description | Part Number | Price | In Stock | Add To Cart | Accessories |
| --- | --- | --- | --- | --- | --- | --- | --- | --- | --- | --- |
| | Pump Model | Inlet Flange | Voltage & Phases | Manual | Description | Part Number | Price | In Stock | Add To Cart | Accessories |
| | XDS35i | KF40 | 100-240 VAC, 50/60 Hz, 1-Ø | | Edwards Vacuum XDS35i Scroll Pump, Standard Series, KF40 Inlet Flange, 35 m^3/hr at 50Hz / 20.61 CFM at 60Hz, Convection Cooling, 100-240 VAC, 50/60 Hz, 1-Ø, Mains Cable Not Included | A73001983 | $16,583.00 | | | |
| | XDS35iE | KF40 | 100-240 VAC, 50/60 Hz, 1-Ø | | Edwards Vacuum XDS35iE Scroll Pump, Enhanced Series, KF40 Inlet Flange, 35 m^3/hr at 50Hz / 20.61 CFM at 60Hz, Convection Cooling, 100-240 VAC, 50/60 Hz, 1-Ø, Mains Cable Not Included | A73003983 | $17,743.72 | | | |
| | XDS35iC | KF40 | 100-240 VAC, 50/60 Hz, 1-Ø | | Edwards Vacuum XDS35iC Scroll Pump, Corrosive Series, KF40 Inlet Flange, 35 m^3/hr at 50Hz / 20.61 CFM at 60Hz, Convection Cooling, 100-240 VAC, 50/60 Hz, 1-Ø, Mains Cable Not Included | A73006983 | P.O.R. | | | |
| | XDS35iE | KF40 | 100-240 VAC, 50/60 Hz, 1-Ø | | Edwards Vacuum XDS35iE-NGB Scroll Pump, Enhanced Series, KF40 Inlet Flange, 35 m^3/hr at 50Hz / 20.61 CFM at 60Hz, Convection Cooling, 100-240 VAC, 50/60 Hz, 1-Ø, Mains Cable Not Included | A73007983 | P.O.R. | | | |
| | XDS35iEC | KF40 | 100-240 VAC, 50/60 Hz, 1-Ø | | Edwards Vacuum XDS35iEC Scroll Pump, Enhanced and Corrosive Series, KF40 Inlet Flange, 35 m^3/hr at 50Hz / 20.61 CFM at 60Hz, Convection Cooling, 100-240 VAC, 50/60 Hz, 1-Ø, Mains Cable Not Included | A73008983 | $18,472.30 | | | |
| | nXDS6i | KF25 | 100-240 VAC, 50/60 Hz, 1-Ø | | Edwards Vacuum nXDS6i Scroll Pump, Standard Series, KF25 Inlet Flange, 6.2 m^3/hr at 50Hz / 3.6 CFM at 60Hz, Convection Cooling, 100-240 VAC, 50/60 Hz, 1-Ø, Mains Cable Not Included | A73501983 | $7,808.00 | | | |
| | nXDS6iC | KF25 | 100-240 VAC, 50/60 Hz, 1-Ø | | Edwards Vacuum nXDS6iC Scroll Pump, Corrosive Series, KF25 Inlet Flange, 6.2 m^3/hr at 50Hz / 3.6 CFM at 60Hz, Convection Cooling, 100-240 VAC, 50/60 Hz, 1-Ø, Mains Cable Not Included | A73502983 | $8,490.71 | | | |
| | nXDS6iR | KF25 | 100-240 VAC, 50/60 Hz, 1-Ø | | Edwards Vacuum nXDS6iR Scroll Pump, Recirculating Series, KF25 Inlet Flange, 6.2 m^3/hr at 50Hz / 3.6 CFM at 60Hz, Convection Cooling, 100-240 VAC, 50/60 Hz, 1-Ø, Mains Cable Not Included | A73503983 | $7,808.00 | | | |
| | nXDS10i | KF25 | 100-240 VAC, 50/60 Hz, 1-Ø | | Edwards Vacuum nXDS10i Scroll Pump, Standard Series, KF25 Inlet Flange, 11.4 m^3/hr at 50Hz / 6.7 CFM at 60Hz, Convection Cooling, 100-240 VAC, 50/60 Hz, 1-Ø, Mains Cable Not Included | A73601983 | $9,759.00 | | | |
| | nXDS10iC | KF25 | 100-240 VAC, 50/60 Hz, 1-Ø | | Edwards Vacuum nXDS10iC Scroll Pump, Corrosive Series, KF25 Inlet Flange, 11.4 m^3/hr at 50Hz / 6.7 CFM at 60Hz, Convection Cooling, 100-240 VAC, 50/60 Hz, 1-Ø, Mains Cable Not Included | A73602983 | $10,445.00 | | | |
| | nXDS10iR | KF25 | 100-240 VAC, 50/60 Hz, 1-Ø | | Edwards Vacuum nXDS10iR Scroll Pump, Recirculating Series, KF25 Inlet Flange, 11.4 m^3/hr at 50Hz / 6.7 CFM at 60Hz, Convection Cooling, 100-240 VAC, 50/60 Hz, 1-Ø, Mains Cable Not Included | A73603983 | $9,759.00 | | | |
| | nXDS15i | KF25 | 100-240 VAC, 50/60 Hz, 1-Ø | | Edwards Vacuum nXDS15i Scroll Pump, Standard Series, KF25 Inlet Flange, 15.11 m^3/hr at 50Hz / 8.9 CFM at 60Hz, Convection Cooling, 100-240 VAC, 50/60 Hz, 1-Ø, Mains Cable Not Included | A73701983 | $11,715.00 | | | |
| | nXDS15iC | KF25 | 100-240 VAC, 50/60 Hz, 1-Ø | | Edwards Vacuum nXDS15iC Scroll Pump, Corrosive Series, KF25 Inlet Flange, 15.11 m^3/hr at 50Hz / 8.9 CFM at 60Hz, Convection Cooling, 100-240 VAC, 50/60 Hz, 1-Ø, Mains Cable Not Included | A73702983 | $12,399.00 | | | |
| | nXDS15iR | KF25 | 100-240 VAC, 50/60 Hz, 1-Ø | | Edwards Vacuum nXDS15iR Scroll Pump, Recirculating Series, KF25 Inlet Flange, 15.11 m^3/hr at 50Hz / 8.9 CFM at 60Hz, Convection Cooling, 100-240 VAC, 50/60 Hz, 1-Ø, Mains Cable Not Included | A73703983 | P.O.R. | | | |
| | nXDS20i | KF25 | 100-240 VAC, 50/60 Hz, 1-Ø | | Edwards Vacuum nXDS20i Scroll Pump, Standard Series, KF25 Inlet Flange, 22 m^3/hr at 50Hz / 13 CFM at 60Hz, Convection Cooling, 100-240 VAC, 50/60 Hz, 1-Ø, Mains Cable Not Included | A73801983 | P.O.R. | | | |
| | nXDS20iC | KF25 | 100-240 VAC, 50/60 Hz, 1-Ø | | Edwards Vacuum nXDS20iC Scroll Pump, Corrosive Series, KF25 Inlet Flange, 22 m^3/hr at 50Hz / 13 CFM at 60Hz, Convection Cooling, 100-240 VAC, 50/60 Hz, 1-Ø, Mains Cable Not Included | A73802983 | P.O.R. | | | |
| | nXDS20iR | KF25 | 100-240 VAC, 50/60 Hz, 1-Ø | | Edwards Vacuum nXDS20iR Scroll Pump, Recirculating Series, KF25 Inlet Flange, 22 m^3/hr at 50Hz / 13 CFM at 60Hz, Convection Cooling, 100-240 VAC, 50/60 Hz, 1-Ø, Mains Cable Not Included | A73803983 | P.O.R. | | | |