Pump Rebuild Overview
Our factory-trained vacuum pump service technicians are equipped to handle the maintenance and repair of virtually any brand and type of vacuum pump. That's because our technicians have repaired vacuum pumps longer than anyone in the service industry. We pride ourselves on our ability to rebuild pumps by using OEM service procedures, manuals, and protocols.
Industries Served
Automotive
Industrial & decorative coatings
Heat treat
R&D
Semiconductor
Metallurgy
Food processing/packaging
Vacuum degassing/drying
Mass spectrometry
Features
OEM Trained Technicians
Certified 12-Month Warranty
Comprehensive Documentation
Fast Turnaround
Pick-up and Delivery Service
Proactive Uptime Programs (Upon request. Availability varies depending on pump model)
Priority Service
ISO 9001 Certified
Pump Decontamination
Our Hazmat certified service technicians are trained to handle materials resulting from corrosive processes.
Our trained service technicians regularly handle the corrosive materials resulting from processes such as semiconductor and gas abatement. Please provide current SDS with submitted equipment for decontamination.
Operated under State DEP (301278) and Federal EPA (PAD981939846) permits
All decontamination service technicians are HAZMAT certified
We will not accept equipment exposed to biological or radiological materials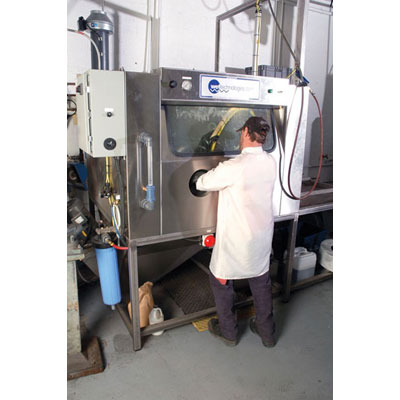 Pumps We Rebuild
Rotary Vane Pumps

OEM Pumps Serviced

Adixen™ (Pfeiffer®)
Busch
Cenco
Edwards
Galileo
Kinney-Tuthill
Labconco
Leybold
Precision Scientific
Welch®
ULVAC®
Varian
And other leading manufacturers

Service Details

Initial disassembly, decontamination, cleaning, and inspection for customer quotation
Standard repairs include replacement of elastomeric materials (seals, gaskets and o-rings), springs, and bearings (where applicable)
Major repairs include replacement of vanes
Upon final assembly, all pump housings are stripped and painted
All serviced mechanical pumps come with a certified KJLC 12-month warranty

Rotary Piston Pumps

OEM Pumps Serviced

Edwards
Kinney-Tuthill
KJLC™
Leybold
Stokes
Welch
ULVAC
Varian
And other leading manufacturers

Service Details

Initial disassembly, decontamination, cleaning, and inspection for customer quotation
Standard repairs include eplacement of elastomeric materials (seals, gaskets and o-rings), springs, and bearings (where applicable)
Major repairs include replacement of reciprocating assembly, including pistons and piston slides
Upon final assembly, all pump housings are stripped and painted
All serviced mechanical pumps come with a certified KJLC 12-month warranty

Roots Blower Pumps

OEM Pumps Serviced

Aerzen
Edwards
KJLC™
Leybold
Stokes
ULVAC®
Other leading manufacturers

Service Details

Initial disassembly, decontamination, cleaning, and inspection for customer quotation
Standard repairs include replacement of elastomeric materials (seals, gaskets, and o-rings)
Major repairs include replacement of rotors, shafts, and roots lobe assemblies, as necessary
Upon final assembly, all pump housings are stripped and painted
Serviced roots pump is matched to a backing pump for final performance and acceptance testing
All serviced roots pumps come with a certified KJLC 12-month warranty

Turbomolecular Pumps

OEM Pumps Serviced

Adixen™ (Pfeiffer®)
Balzers
Leybold
Shimadzu
Varian
Welch
Other leading manufacturers

Service Details

Initial disassembly, cleaning, decontamination, and inspection for customer quotation
Standard repairs include the replacement of elastomeric materials (seals, gaskets, and o-rings), ceramic bearings, wicks, and grease plugs
Major repairs include replacement of turbine blades and hub as necessary
Serviced turbo pump is matched to a backing pump for final performance and acceptance testing (NOTE:We recommend customers supply their turbo pump converter and cables to ensure proper operation)
All serviced turbomolecular pumps come with a certified KJLC 12-month warranty

Ion Pumps

OEM Pumps Serviced

Gamma Vacuum
KJLC
Leybold
Perkin Elmer
Phi
Physical
Electronics
ULVAC
Varian
And other leading manufacturers

Service Details

Initial disassembly, decontamination, cleaning, and inspection for customer quotation
Standard repairs include bead blasting and electropolishing of pump interior and replacement of diode elements and any feedthroughs (where applicable).
Pumps are baked and tested under UHV conditions to OEM pecifications
Final assembly is performed in a dedicated clean area where all pumps are then shipped under vacuum
All serviced ion pumps come with a certified KJLC 12-month warranty

Diffusion Pumps

OEM Pumps Serviced

Adixen™ (Pfeiffer)®
CVC
Edwards
Leybold
Varian
Other leading manufacturers

Service Details

Initial disassembly and inspection for customer quotation
Thorough inspection procedures include testing all heaters, electrical components, jets, baffles, cooling coils, and flanges
Extensive, diversified cleaning and degreasing processes
Replacement of elastomeric materials (seals, gaskets, and o-rings) and heater insulation
Upon final assembly, proper jet alignment is tested and pump housings are stripped and painted
Serviced diffusion pump is matched to a backing pump for final performance and acceptance testing
All serviced diffusion pumps come with a certified KJLC 12-month warranty

Diaphragm Pumps

OEM Pumps Serviced

Ilmvac
KNF
ULVAC®
VacuBrand Welch
Other leading manufacturers

Service Details

Initial disassembly and inspection for customer quotation
Standard repairs include replacement of elastomeric materials (seals, gaskets, and o-rings), including pump diaphragm and springs
Major repairs include replacement of port valves, shafts, and cam, as necessary
All serviced diaphragm pumps come with a certified KJLC 12-month warranty

Scroll Pumps

OEM Pumps Serviced

Anest-Iwata
BOC Edwards
Busch
Hitachi
Ilmvac
Leybold
Mitsubishi
ULVAC
Varian
And other leading manufacturers

Service Details

Initial disassembly, decontamination, cleaning, and inspection for customer quotation
Standard repairs include replacement of tip seals and elastomeric materials (seals, gaskets, and o-rings)
Major repairs include replacement of springs, bearings, bushings, and filters
Final performance and acceptance testing of serviced pump to OEM specifications
All serviced scroll pumps come with a certified KJLC 12-month warranty