Models:
SD versions (ACP 15 / ACP 28 / ACP 40)
The ACP SD version designed for applications that require pumping of clean (dust-free) and non-corrosive gases. The standard pumps are equipped with a gas ballast equipment in order to improve the pumping of light gases and to avoid the condensation of steam inside the pump. Three gas ballast options are available.
CV (condensable vapors) versions (ACP 28 / ACP 40)
The CV-version is specially designed for avoiding vapor condensation inside the pump block. This occurs through: A high gas ballast throughput for heating up pumps and diluting condensable gases. A silencer with drain screws for releasing liquid at the lowest point of the exhaust. Flushing gas injection to protect the ball bearing and the shaft seals. The CV version has a water vapor capacity of up to 1,000 grams per hour.
CP (gas recirculation) versions (ACP 28 / ACP 40)
The CP version is best suited for rare gas recirculation, where process gases are separated from the air and other gases. It is achieved by adding an extra port to allow pumping inside the gearbox casing and removing undesired gases. The standard usage is to pump through all ports, fill the pump with the recirculating gas, and isolating the gas ballast casing port.
Features:
Ideal replacement for scroll and oil-sealed pumps
Air cooling - No installation and operational costs for water supply
Frequency converter - Hour meter, remote operation mode (RS-485, dry contacts), multiple rotational speed selection (power saving, noise reduction, adaptation to application cycle)
Several gas port options - Purge gas, gas ballast, other specific ports according to application
Universal power supply - Wide voltage supply 50/60 Hz single-phase and three-phase
Standards - Compliance with CE standards, UL/CSA certified, SEMI S2 certified
Applications:
Electron microscopes
Surface analyzers
Leak detectors
Mass spectometers
Optical spectrometers
Particle accelerators
Turbo pumping stations
Laboratories
Lamp manufacturing
Vacuum coating
Cryo pumps regeneration
Plasma cleaning
Drying
Load-lock
Videos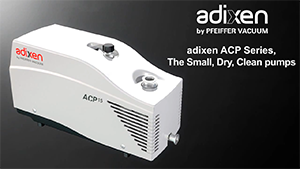 Pfeiffer Vacuum multi-stage Roots pump ACP
The multi-stage Roots pump technology of the ACP series meets the requirements of applications where a clean and dry vacuum is needed.
Runtime: 2:02
Specifications Table
Ordering Table
(Click column headers to sort data)
| | Pump Model | Inlet Flange | Voltage & Phases | Manual | Description | Part Number | Price | In Stock | Add To Cart | Accessories |
| --- | --- | --- | --- | --- | --- | --- | --- | --- | --- | --- |
| | Pump Model | Inlet Flange | Voltage & Phases | Manual | Description | Part Number | Price | In Stock | Add To Cart | Accessories |
| | ACP 15 | KF25 | 90–254 VAC, 50/60 Hz, 1-Ø, US Plug | | PUMP,DRY,ACP15,STD VERSION, QF25 INL,QF16 EXH, 90-254V,50/60HZ, 1PH, GAS BALLAST, US POWER CORD 2M | V5SATSMFAF | P.O.R. | | | — |
| | ACP 28 (CV/CP) | KF25 | 100–230 VAC, 50/60 Hz, 1-Ø, US Plug | | PUMP,DRY ACP28G V2, "G" VERSION, QF25 IN/EX, 90-254V,50/60HZ, 1PH, US POWER CORD 2M | V6GATSFABF | P.O.R. | | | — |
| | ACP 28 (CV/CP) | KF25 | 100–230 VAC, 50/60 Hz, 1-Ø, US Plug | | PUMP,DRY,ACP28CV,US VERSION,MANUAL BALLAST | V6GVTSFAVF | P.O.R. | | | — |
| | ACP 28 (CV/CP) | KF25 | 200–440 VAC, 50/60 Hz, 3-Ø | | PFEIFFER ACP 28 CV MULTI-STAGE ROOTS DRY PUMP, KF25 INLET AND EXHAUST FLANGE, 27M^3/HR, 200-440 VAC 50/60 HZ, 3-PHASE, MANUAL GAS BALLAST, 3-PHASE BARE END MAINS CABLE INCLUDED | V6GVTSTRVF | P.O.R. | | | — |
| | ACP 28 (CV/CP) | KF25 | 100–230 VAC, 50/60 Hz, 1-Ø, US Plug | | PUMP,DRY ACP28 V2, STD VERSION, QF25 IN/EX, 90-254V,50/60HZ, 1PH, GAS BALLAST, US POWER CORD 2M | V6SATSFAMF | P.O.R. | | | — |
| | ACP 28 (CV/CP) | KF25 | 100–230 VAC, 50/60 Hz, 1-Ø, US Plug | | PUMP, SCROLL, ACP28 CP | V6SCTEFABF | P.O.R. | | | — |
| | ACP 40 (CV/CP) | KF40 | 100–230 VAC, 50/60 Hz, 1-Ø, US Plug | | PUMP,DRY, ACP40G V2, "G" VERSION, QF40 IN/QF25 EX, 90-254V,,50/60HZ,1PH, US POWER CORD 2M | V8GACSFABF | P.O.R. | | | — |
| | ACP 40 (CV/CP) | KF40 | 100–230 VAC, 50/60 Hz, 1-Ø, US Plug | | PUMP, DRY, ACP40 CV, DN40 ISO-KF INLET, DN25 ISO-KF OUTLET, WITH SIDE SILENCER | V8GVCSFAVF | P.O.R. | | | — |
| | ACP 40 (CV/CP) | KF40 | 200–440 VAC, 50/60 Hz, 3-Ø | | PFEIFFER ACP 40 CV MULTI-STAGE ROOTS DRY PUMP, KF40 INLET AND KF25 EXHAUST FLANGE, 37M^3/HR, 200-440 VAC 50/60 HZ, 3-PHASE, MANUAL GAS BALLAST, 3-PHASE BARE END MAINS CABLE INCLUDED | V8GVCSTRVF | P.O.R. | | | — |
| | ACP 40 (CV/CP) | KF40 | 100–230 VAC, 50/60 Hz, 1-Ø, US Plug | | PUMP,DRY,ACP40 V2,STANDARD VERSION,90-254V,50/60HZ,1PH, GAS BALLAST, US POWER CORD 2M | V8SACSGAMF | P.O.R. | | | — |
| | ACP 40 (CV/CP) | KF40 | 100–230 VAC, 50/60 Hz, 1-Ø, US Plug | | PUMP, SCROLL, ACP40 CP | V8SCCEFABF | P.O.R. | | | — |
Accessories Table
| | Description | For Pump Model(s) | Accessory Type | Part Number | Price | In Stock | Add To Cart |
| --- | --- | --- | --- | --- | --- | --- | --- |
| | Description | For Pump Model(s) | Accessory Type | Part Number | Price | In Stock | Add To Cart |
| | Adixen ES-25-S Oil Mist Eliminator | ACP 15, ACP 28 (CV), ACP 40 (CV) | Foreline Accessory | 109873 | $398.00 | | |
| | Adixen IPF 40 (Inlet Particle Filter), KF40 Flange | ACP 40 CV | Foreline Accessory | 111647 | P.O.R. | | |
| | Adixen NRC15 (Noise Reduction Cover) for ACP15 Pumps | ACP 15 | Rough Pump Accessory | 111968 | P.O.R. | | |
| | Auto-Soft Flow Actuated Check Valve (KF40) | ACP 40, ACP 40 CP, ACP 40 G (with gas purge), ACP 40 CV (manual gas ballast) | Hardware | 225-0040 | P.O.R. | | |
| | Centering Ring, SS, QF16, FKM | All ACP Series Pumps | Hardware | QF16-075-SRV | $8.55 | | |
| | Centering Ring, SS, QF40, FKM | All ACP Series Pumps | Hardware | QF40-150-SRV | $13.50 | | |
| | Clamp for KF25 | All ACP Series Pumps | Hardware | QF25-100-C | P.O.R. | | |
| | Clamp, Aluminum, QF16, Cast 1/2" & 3/4" | All ACP Series Pumps | Hardware | QF16-075-C | P.O.R. | | |
| | Clamp, Aluminum, QF40, Cast 1-1/2" | All ACP Series Pumps | Hardware | QF40-150-C | P.O.R. | | |
| | Clamping Kit, For QF25 Flange, Including Aluminum Clamp and FKM Centering Ring | ACP 15, ACP 28 (CV/CP) | KF Hardware Kit | QF25-HDKIT | P.O.R. | | |
| | Clamping Kit, For QF40 Flange, Including Aluminum Clamp and FKM Centering Ring | ACP 40 (CV/CP) | KF Hardware Kit | QF40-HDKIT | P.O.R. | | |
| | Fluorocarbon Centering Ring for KF25 | All ACP Series Pumps | Hardware | QF25-100-SRV | $11.25 | | |
| | KJLC Controller, Power Supply and Display | ACP 15 | Controller | KJL-SPARC-3.0 | P.O.R. | | |
| | KJLC Pirani, Nickel Filament, KF16 | ACP 15 | Gauge | PIR-NS-1 | P.O.R. | | |
| | KJLC Pirani, Tungsten Filament, KF16 | ACP 15 | Gauge | PIR-T0-1 | P.O.R. | | |
| | Sound enclosure | ACP 28, ACP 40 | — | 112637 | P.O.R. | | |