CMS (Combinatorial Materials Science) Series – Advanced Research System utilizing Sputtering or Electron Beam Techniques
Techniques Offered:
Electron Beam Evaporation
Thermal Evaporation
Magnetron Sputtering
Combinatorial Materials Science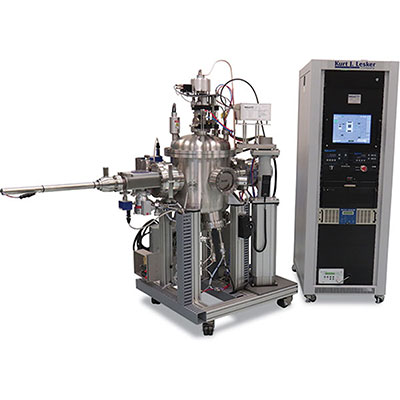 Overview
Extremely capable, advanced research tool
Designed to accommodate specific thin film applications such as GMR, CMS, Semiconductor, Nanoscale devices, Photonics, and Photovoltaics
Unique system design can be configured for true Ultra High Vacuum performance
Field tested and proven design
Applications
Giant Magnetoresistance (GMR)
Combinatorial Materials Science (CMS)
Semiconductor
Superconductor
Nanoscale devices
Photonics
Photovoltaics (PV)
OLED
Organic films
Features
Chamber
Adaptable chamber, base plate, and substrate options
18" D x 15" H SS process chamber
Pumping & Gauging
1500 l/s Cryo pump
Wide range vacuum gauge, atm to 1x10-10 torr
High precision closed loop pressure control (both upstream and downstream for sputtering applications)
Substrate Handling
Rotating substrate platen for up to 150mm (6") substrates
Substrate heating to 800°C with quartz lamp heater
Single or multi-wafer load lock with manual or computer controlled sample transfer
High precision PID temperature control loop (when equipped with substrate heating)
Deposition Sources
Pneumatically actuated source and substrate shutters
Configurable with six or more magnetron deposition sources
Cross contamination shielding (when applicable)
Quality & Safety
Computer control with manual or fully automatic operation
CE mark, UL listing, CSA, NRTL, and other industry recognized testing certifications available
Extruded aluminum framework with enclosure panels
Single service drop power distribution module
Options
Chamber
UHV configuration
24" chamber upgrade
Multi-process chamber cluster tool configurations
Pumping & Gauging
Maglev turbo pump
Dry pumping package
Residual gas analyzer for in-situ monitoring of process gases or chamber constituents
Deposition Sources
Available Linear multi-pocket UHV electron beam evaporation source (multi-technique options available)
HV or UHV compatible magnetron sputter sources
Substrate Handling
Rotating substrate platen for up to 200mm (8") substrates
Substrate biasing for sample cleaning (typically RF plasma to remove native oxide layers)
Substrate bias during deposition to influence features of film microstructure (such as crystal orientation), improve film densification, promote film adhesion, and promotes improved film homogeneity of co-sputtered alloy films
Substrate heating to 1100°C with element style heater
Substrate cooling (Liquid and/or LN2)
Sample flip fixture for coating both sides of the substrate
Film shaping tool (blade mounted to high precision computer controlled arm)
Indexable magnetic field at substrate
In-situ film analysis (Optical process monitor, RHEED, or spectroscopic ellipsometer)

Architecture Overview
KJLC® eKLipse™ Control Software

Kurt J. Lesker Company® eKLipse™ Controls Software is utilized on all KJLC platforms. The eKLipse™ controls platform utilizes a .NET application running on a Windows PC for its User Interface and Recipe Editor. Equipment automation is accomplished via a standalone Real Time Controller.
---
Recipes

Graphical Recipe Builder – Easily create recipes by clicking on the desired component and set that item's attributes







| | |
| --- | --- |
| | Scripted Recipe Builder – A more traditional "scripted" recipe editor exposes more details for setting or checking the value of any system component during a process. |
---
Reliable

Real Time Controller – The system operates independently of the Windows software package and will continue the recipe should the software / computer malfunction.
Independent Thermal Evaporation Thin Film Control – There is no third party software requiring a "handshake" or "handoff" between the Systems Manufacturers software and the thin film controller's software.
---
Unlimited Recipes, (import/export capable)

Unlimited recipes with user security level features
Recipe import/export capability (for transferring recipes between similarly equipped tools)
Any recipe step can be configured to allow the user to alter a value, enabling process condition changes, without affecting the master recipe. As an example, at the time of execution, the recipe can prompt the user for the desired deposition thickness, or power setting.
Consistent User experience across all deposition techniques and KJLC platforms (Sputter, Thermal, EBeam, ALD)
Multi chamber and multi PC control for cluster tools
---
Custom Chart Recorder and Datalogging

Custom Chart with up to 10 simultaneous plots
Chart Recorder can be used to display any setpoint or feedback parameter
Automatic datalogging of each recipe step for all recipes
Chart data and configuration can be saved
| | |
| --- | --- |
| Graphical selection of signals to be recorded | |
---
Custom Maintenance Counters

Custom Maintenance Counters are available for each component
Periodic Maintenance interlocks and recipe checks can be configured for any maintenance counter
Sputter Target kiloWatt*Hour and custom material usage tracking







---
User Security

Supports multiple user accounts and password levels with custom security access for recipes and screens
Software screen access can be customized per user
Recipe editing and manual operation features can be assigned on a per user basis;
Users with full access have the ability to edit recipes and control interlocks. Restricted access users will be limited to running certain recipes and have no control over interlocks.
Every control object can be assigned to a standard user security level.
Individual screen access can be separately assigned to any user.
---
Multi User Facility Features

System event log captures all user login/logout events, all recipes executed, and system status messages
Interlocking of vacuum and deposition equipment provides continuous system status monitoring while restricting unapproved system usage (no need to 'power off' system screen or PC)
---
Remote Support Utility and Apps

Customized Version of TeamViewer allows remote support (free Android and IOS apps)
Remote connection supports system monitoring/control and file transfer
Would You Like More Information?
Do you have any questions? Click below to get in contact with one of our many experienced team members.
CONTACT US TODAY