Super-SPECTROS 200 - Organic Thin Film Deposition & Metallization System up to 200mm x 200mm Substrate
Techniques Offered:
Organic Evaporation
Glove Box Integration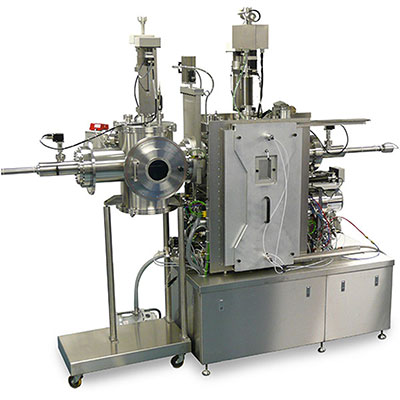 Overview
Optimized for organic material deposition
Up to 12 LTE sources; 1cc, 10cc or 35cc capacity
Host to dopant ratio 1000:1
Up to 4 thermal evaporation sources
Substrate shutter
Automatic substrate, mask storage and exchange
Pyrometer port
Glovebox interfaceable design with sliding front door and sliding rear door
KJLC eKLipse™ control software
Rate control resolution 0.05Å/s
Recipe based PC based system controls
Cryopump high vacuum pumping
2-position gate valve
Options
Wedge tool for shaped film growth
Co-deposition
Electron beam source
Twelve source thermal evaporation source array
Caesium, Selenium, or HTE source
Load lock chamber
Plasma clean
3-position gate valve
In-situ source material replenishment
Substrate rotation, heating and cooling
KJLC adaptor box and 2-port or 4-port glovebox
Turbomolecular pumping
Datalogging
Applications
Organic Semiconductor
Nanoscale Devices
Metal Cathode Deposition
Organic Films
Organic Electronics and Photovoltaics (OPV)
OLED
OLED Displays
OLED Lighting
Organic Electronics
Integrated Smart Systems
Thin Film Batteries
MEMS/NEMS
Specifications
| | |
| --- | --- |
| Process Chamber | UHV grade, 304 stainless steel, nominally 24" wide x 24" deep by 40" tall |
| Framework | Steel construction, enclosed panel base with open chamber access, fully enclosed electronics cabinet |
| Vacuum Pumping | Brooks 1500 l/s cryo pump with oil-free backing pump standard (8x10-8 mbar base pressure) |
| Vacuum Valves | VAT 2-position pneumatic HV valve. Optional VAT 3-position pneumatic HV valve. All others are KJLC HV valves |
| Pressure Measurement | Pfeiffer 685 L/s turbomolecular pump with an Adixen 2010SD oil sealed roughing pump. Base pressure for a properly conditioned chamber is 2 x 10-7 torr (2.67 x 10-7 mbar) |
| Vacuum Interlocks and Venting | Automatically sequenced vent control & vacuum interlock for process chamber |
| Deposition Uniformity | ≤±3% on a 10" (250mm) diameter or 8"(200mm) x 8"(200mm) Si wafer with a 5mm edge exclusion as measured on an AlQ3 or Al film of >200nm thick |
| Low Temperature Source | KJLC design low temperature evaporation (LTE) source for controlled deposition of materials up to 600°C |
| Substrate Platen | Platen for up to 8" (200mm) diameter or 8"(150mm) x 8"(150mm), available with 20 rpm rotation, substrate heating up to 350°C, cooling to -10°C, and RF plasma clean/etch via the substrate shutter. 5-shelf cassette for substrate and mask storage with exchange |
| Film Thickness Control | Film thickness and deposition rate control enabled via system software and controller (no 3rd party hardware required) |
| System Control | KJLC eKLipse™ software PC-based HMI manual computer control, with optional recipe control and datalogging |
| Required Power (Typical, based on options) | 400VAC, 3∅, 32A, 50/60Hz, 5-wire (3Ph+N+E) |
| Compliance | CE, optional CSA and UL |
| Warranty | 12 months upon receipt, extended warranty is available at additional cost |
KJLC Combinatorial Dual Wedge Tool
---
| | |
| --- | --- |
| | KJLC Dual Wedge Tool turns your single substrate in to multiple substrates without the need for breaking vacuum or complex masking. This Combinatorial (producing multiple substrates with different materials and thicknesses on a single substrate) approach cuts down expensive and prolonged research time allowing for large amounts of substrate variations to be completed in days instead of months. |
| | |
| --- | --- |
| The KJLC wedge tool can help deposited films of material with n number of variations in addition to shadow mask. n is number of columns and its width can be programmed. | |
| | |
| --- | --- |
| | Example: 6 step (or six columns) deposition of various thickness of a "Material" or 6 deposition of different materials of same thickness or various thicknesses |
| | |
| --- | --- |
| The substrate can be ROTATED 90, 180 or 270 degrees in the cassette and repeat the above wedge operation. | |
| | |
| --- | --- |
| | Using the KJLC dual wedge tool in combination with the rotation/orientation of the substrate will result in nxn depositions. In example given a total of 36 can be prepared with straightforward operation of the dual wedge and substrate rotation. |

Architecture Overview
KJLC® eKLipse™ Control Software

Kurt J. Lesker Company® eKLipse™ Controls Software is utilized on all KJLC platforms. The eKLipse™ controls platform utilizes a .NET application running on a Windows PC for its User Interface and Recipe Editor. Equipment automation is accomplished via a standalone Real Time Controller.
---
Recipes

Graphical Recipe Builder – Easily create recipes by clicking on the desired component and set that item's attributes







| | |
| --- | --- |
| | Scripted Recipe Builder – A more traditional "scripted" recipe editor exposes more details for setting or checking the value of any system component during a process. |
---
Reliable

Real Time Controller – The system operates independently of the Windows software package and will continue the recipe should the software / computer malfunction.
Independent Thermal Evaporation Thin Film Control – There is no third party software requiring a "handshake" or "handoff" between the Systems Manufacturers software and the thin film controller's software.
---
Unlimited Recipes, (import/export capable)

Unlimited recipes with user security level features
Recipe import/export capability (for transferring recipes between similarly equipped tools)
Any recipe step can be configured to allow the user to alter a value, enabling process condition changes, without affecting the master recipe. As an example, at the time of execution, the recipe can prompt the user for the desired deposition thickness, or power setting.
Consistent User experience across all deposition techniques and KJLC platforms (Sputter, Thermal, EBeam, ALD)
Multi chamber and multi PC control for cluster tools
---
Custom Chart Recorder and Datalogging

Custom Chart with up to 10 simultaneous plots
Chart Recorder can be used to display any setpoint or feedback parameter
Automatic datalogging of each recipe step for all recipes
Chart data and configuration can be saved
| | |
| --- | --- |
| Graphical selection of signals to be recorded | |
---
Custom Maintenance Counters

Custom Maintenance Counters are available for each component
Periodic Maintenance interlocks and recipe checks can be configured for any maintenance counter
Sputter Target kiloWatt*Hour and custom material usage tracking







---
User Security

Supports multiple user accounts and password levels with custom security access for recipes and screens
Software screen access can be customized per user
Recipe editing and manual operation features can be assigned on a per user basis;
Users with full access have the ability to edit recipes and control interlocks. Restricted access users will be limited to running certain recipes and have no control over interlocks.
Every control object can be assigned to a standard user security level.
Individual screen access can be separately assigned to any user.
---
Multi User Facility Features

System event log captures all user login/logout events, all recipes executed, and system status messages
Interlocking of vacuum and deposition equipment provides continuous system status monitoring while restricting unapproved system usage (no need to 'power off' system screen or PC)
---
Remote Support Utility and Apps

Customized Version of TeamViewer allows remote support (free Android and IOS apps)
Remote connection supports system monitoring/control and file transfer
Downloads & Documents
View information on major components regarding your product.
Datasheets & Component Lists
White Papers
Helpful Material Resources
Materials Overview
Our Materials Division stocks a vast assortment of high purity materials, evaporation sources, and crucible liners for use in both thermal and E-beam evaporation as well as sputter deposition processes. We offer pure elements, compounds, alloys, ceramics, intermetallics, and mixtures in a variety of shapes, sizes, and purities for both R&D and Production applications. Each sputtering target and evaporation material ships complete with a Certificate of Analysis and SDS. We also provide in-house sputter target bonding and precious metals reclamation services, saving you both time and money.
We manufacture a wide range of target materials designed to meet the demanding needs of both Production customers as well R&D customers needing a custom one off target. We are able to offer various purities, materials, sizes, and compositions. Our experienced in house bonding team is also able to provide high quality bonding services using KJLC or customer supplied backing plates. Many standard sizes and configurations available to ship directly from stock.
KJLC stocks a wide variety of evaporation materials in various sizes, shapes and quantities, available for immediate shipment. The range of materials offered is extensive, including pure metals, precious metals, standard alloys, oxides, nitrides, and fluorides. The materials can be packaged for the small quantity user, as well as, for the large volume production customer.
Our unique offering of precious metal products protects our customers from daily market price fluctuations by locking in the price on the day the order is placed. Inventory management tools allow us to stock a variety of precious metal products in standard target configurations, as well as, pellet, shot, and wire for evaporation. Shipments are packaged per order in the quantities our customers require, allowing them to purchase as much or as little as they need. Because of the high value of these materials we offer a convenient reclaim service for precious metal scrap. Credit is applied quickly to customer accounts which can be used to fund their next purchase. Kurt J. Lesker Company understands that these high cost materials require tight controls and close management. Our goal is to make precious metal purchases as easy as possible for our customers.
As a complement to the extensive offering of evaporation materials, a wide range of thermal evaporation sources are available to our customers. Hundreds of boat sources with differing geometries and capacities make it easy to find a source that is ideally suited to coat numerous materials onto substrates of various configurations. Many materials prove troublesome for evaporation and may require a different style of evaporation source. In addition to boat sources, alternative sources such as filaments, baskets, box heaters, and heaters with crucibles may be the solution to evaporating these more difficult materials. A wide range of products are available to ship from stock with evaporation materials or as replacements.
The Kurt J. Lesker Company continues to expand process capabilities in ceramic manufacturing to meet the evolving requirements for these demanding products. In-house powder synthesis capabilities, utilizing various chemical techniques, give us the ability to manufacture custom stoichiometries for both R&D and production material requirements. Proprietary mixing and sintering methods yield homogeneous, high density products ideally suited for PVD applications. Hot pressing is also utilized to enhance the variety of ceramics that can be offered.
Quality
At the Kurt J. Lesker Company quality is our highest priority. Our ISO 9001 certification ensures that product quality is never compromised. All of our products undergo the requisite level of quality control inspection and all materials are shipped with a certificate of analysis and material safety data sheet. We employ numerous analytical techniques at various stages in the process to ensure that the products meet our quality standards and perform in the demanding applications which they are used.
Technical Support
As a leading manufacturer of PVD equipment, we have quite a few technical resources within the organization. We are happy to help troubleshoot or offer advice on process related questions ranging from sputtering powers to crucible selection.
Would You Like More Information?
Do you have any questions? Click below to get in contact with one of our many experienced team members.
CONTACT US TODAY