316LN SS Standard ConFlat® (CF) UHV Flanges
Please choose an option by Size or Type:
---
Flange Types: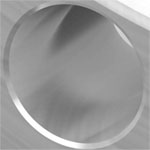 Through (Clearance) Holes
Are through-holes that allow adequate clearance for bolts to go through both flanges and secured by nuts or plate nuts.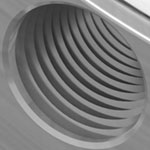 Tapped Holes
Are imperial or metric threaded holes machined through the flange. This allows a clearance-hole flange to be connected without the need for nuts or plate nuts. Be aware of a components bolt hole orientation when selecting tapped flanges.
We manufacture a comprehensive range of flanges and flanged components such as nipples, elbows, tees, and crosses in all standard vacuum flange systems.
In addition, we supply a variety of hardware and components. If you cannot find the vacuum component you want, please email or call +1 412 387 9200 . Need a custom component, our engineering and machine-shops are set-up to track and control traceability with the ease of standard components.
For a listing of Frequently Asked Questions (FAQs) about Flanges & Components please see this link: Flanges & Components FAQ.